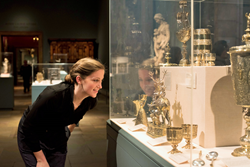 The Feast Your Eyes interdisciplinary tour explores humanity's fascination with and love of food. We are thrilled to bring our tours to Boston, Chicago and D.C. with the help of our Kickstarter campaign.
New York, New York (PRWEB) October 05, 2017
ART SMART, New York City's premier art tour and advisory service, announces the expansion of "Feast Your Eyes" an interdisciplinary tour that explores humanity's fascination with and love of food culture throughout history, to Chicago, Boston and Washington, DC beginning in December, 2017.
This tour was first introduced at the Metropolitan Museum of Art in 2016 to critical acclaim—garnering praise from press, food gourmands and art history buffs alike—and we are delighted to bring this tour to museums in Chicago, Boston and DC We are also excited to be raising funds through our first Kickstarter campaign to help with this expansion; backers will be able to take part in exclusive early access to the Feast Your Eyes tours in these three cities.
FEAST YOUR EYES ART TOURS & TASTINGS
This guided tour explores our world's culinary history by looking at the diverse collections at the Art Institute of Chicago; the Museum of Fine Arts in Boston, and the National Gallery of Art in DC On the tour, ART SMART's art historian guide will take guests on a food-inspired journey, leading discovery and discussions around works ranging from archaeological objects to Dutch still-life paintings, to modern and contemporary works. "It's Art & Culture meets the sensations of taste and smell on this culinary-inspired Art Smart tour creation," said Judith Walsh, Founder/CEO, Art Smart. "Boston, Chicago and DC are all cities with a fantastic devotion to food and drink, and we believe that our tours will be a great addition to the cultural scene."
Tour highlights include learning the importance of bread-baking and beer-brewing in Ancient Egypt, to examining the sumptuous details of depictions of seafood and fruit in Dutch paintings, to understanding the role of absinthe-drinking in Impressionist art circles in Paris and the emergence of the dining-out culture during the Jazz Age.
An à la carte wine and tasting can follow the tour thanks to partnerships with local restaurants, which we are developing in conjunction with this expansion tour.
ABOUT ART SMART
Art Smart creates customized tours that turn museum and gallery visits into exciting and enriching experiences for people of all ages. Participants can schedule a personalized tour tailored to their interests or can choose from our selection of new thematic tours.
For further press information and visual materials, please contact:
Art Smart
Judith Walsh
212-595-4444