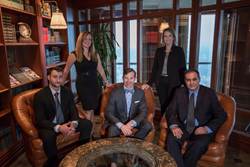 Charlotte, N.C. (PRWEB) October 16, 2017
Haute Residence is pleased to welcome Matthew Paul Brown, owner of Reside Realty, to its invitation-only network of top luxury brokers. As a Haute Residence partner, Brown exclusively represents the high-end markets of North Carolina and South Carolina.
Brown had launched both Sotheby's International Realty and Christie's International Real Estate offices in Charlotte, North Carolina, as Managing Broker before he officially opened his own boutique company this year.
As a firm, Reside Realty focuses on quality, not quantity. Reside Realty is a full-service, luxury real estate brokerage and lifestyle company representing clients in both residential and new developments. Reside Realty extends far beyond what a conventional brokerage firm offers. It is a lifestyle company committed to excellence, offering design, marketing and sales solutions for buyers, sellers, developers and investors across the globe.
Led by Brown, the skilled broker associates of Reside Realty specialize in both the purchase and sale of properties in North Carolina and South Carolina. The team's success is a tribute to their expertise in negotiating extraordinary opportunities for clients and maintaining life-long relationships.
Visit Reside Realty at http://www.ResideRealty.com.
About Haute Residence:
Designed as a partnership-driven luxury real estate portal, Haute Residence connects its affluent readers with top real estate professionals, while offering the latest in real estate news, showcasing the world's most extraordinary residences on the market and sharing expert advice from its knowledgeable and experienced real estate partners.
The invitation-only luxury real estate network, which partners with just one agent in every market, unites a distinguished collective of leading real estate agents and brokers and highlights the most extravagant properties in leading markets around the globe for affluent buyers, sellers, and real estate enthusiasts.
HauteResidence.com has grown to be the number one news source for million-dollar listings, high-end residential developments, celebrity real estate, and more.
Access all of this information and more by visiting: http://www.hauteresidence.com