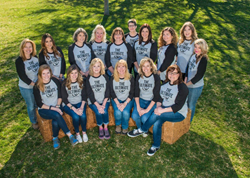 "In a state known for its exceptional hospitality, being named Best Meeting/Event Planning Company in Texas is quite an honor!"
Addison, Texas (PRWEB) January 25, 2017
Ultimate Ventures®, a DMC Network company, continues its tradition of service excellence. In the Winter 2017 issue of Texas Meetings & Events magazine, Ultimate Ventures is honored to be recognized as the Best Meeting/Event Planning Company in Texas.
"We are beyond thrilled to be included on this list and among such good company," said Laurie Sprouse, CITE, CMP, DMCP, President of Ultimate Ventures. "In a state known for its hospitality, being named Best Meeting/Event Planning Company is quite an honor!"
As the most awarded destination management company in Texas, Ultimate Ventures prides itself on providing exceptional experiences for clients holding meetings and conferences in the Dallas-Fort Worth area. In 2016, the Ultimate Ventures team executed over 165 programs for meeting and event planners with destination services ranging from VIP airport transfers to multi-day conferences filled with spectacular special events and unique local activities.
Laurie remarks, "Receiving this vote of confidence from the readers of Texas Meetings & Events magazine is incredibly rewarding and gratifying to our team. While we regularly receive fabulous client accolades on post-program evaluations, to have those efforts acknowledged in such a public way, makes it all the more meaningful."
We invite you to watch our 2016 Highlight Reel
About Ultimate Ventures, a DMC Network Company
The destination experts at Ultimate Ventures work with meeting professionals to bring the best of Dallas-Fort Worth to life. As North Texas' first accredited DMC and recognized as a Top 25 DMC worldwide by Special Events magazine, our experienced team is uniquely qualified to assist planners with a full range of services including special events, entertainment, team-building, group excursions, spouse tours, gifts, and transportation logistics.
To learn more about Ultimate Ventures, a DMC Network Company, visit our website at http://www.uvdmc.com .