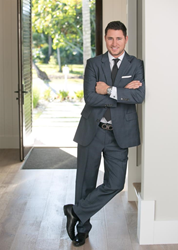 Naples, Florida (PRWEB) September 21, 2017
Haute Residence welcomes real estate agent Dante DiSabato to its invite-only network of prominent brokers. As a Haute Residence partner, DiSabato exclusively represents the luxury real estate market in Naples, Florida.
A concierge Realtor in the truest sense of the term, DiSabato works tirelessly to ensure his clients' satisfaction, bringing a discipline and competitive spirit to real estate that's perfectly in tune with getting the best for his customers.
Over the course of his career specializing in the Naples, Florida, luxury market, he's helped his clients buy and sell more than $125 million in real estate, providing him with the keen experience of navigating a large volume of transactions. In addition, DiSabato is one of Florida's youngest members of Who's Who in Luxury Real Estate, a global collection of the finest luxury real estate brokers in the world. Year-to-date, DiSabato sales for 2017 are more than $30 million. He's been named a 'Top Producer' handling transactions in Old Naples, Port Royal, Aqualane Shores, Park Shore, Moorings, Coquina Sands, and Pelican Bay, and is licensed to sell both residential and commercial real estate in Ohio. And in moving to Naples from Columbus, Ohio, he has added insight to the process of relocating that many agents do not have.
He gives clients 24/7 access, and is known for creating genuine one-on-one relationships with buyers and sellers.
DiSabato has a background in development, construction, product programming, and quality analysis, providing him with the experience his clients need to make informed decisions. Best of all, he makes himself available before, during and after the sale. He is associated with the National Board of Realtors, Florida Board of Realtors, Naples Board of Realtors, and Columbus Board of Realtors. DiSabato is invested in his community and donates energies to Gentle'men Against Domestic Violence: The Shelter for Abused Women and Children, and the James Cancer Hospital at The Ohio State University.
Testimonials:
"Dante is a five tool player. Smart, informed, measured, patient, and energetic. He is truly everything you want in a realtor. I could not recommend him enough. He made my Naples purchase a breeze." — John
"We were very pleased with our choice of using Dante DiSabato for our second real estate purchase in Naples, Florida. We have worked with numerous brokers over the years and his diligence, intimate market knowledge, and negotiation skills are second to none. Dante not only made the purchase successful through the closing, he made it enjoyable. We fully recommend Dante for your real estate needs in Naples Florida." – Harvey and Judith
"As a young real estate professional Dante exudes the confidence and maturity well beyond his years. We were pleased and extremely comfortable with the care and concern Dante showed throughout the buying process and beyond. His honesty and integrity is apparent in every step of the way. We fully recommend Dante for your real estate needs in Columbus, Ohio and in Naples, Florida." – Michael and Janis
"We worked with Dante DiSabato recently to purchase our new home in Naples. We could not be more pleased with his services. Dante's attention to detail, tenaciousness and professionalism is something that we found rare in realtors in the Naples area. From home selection, to showings to contract signing, Dante was there communicating with us every step of the way and working towards our goals. We have purchased several houses over the years and this has by far been the best buying experience that we have ever had. Dante is a true rare breed in today's real estate market and we would not hesitate to recommend him to our friends and family." — Greg and Marcia
"In our recent search for and purchase of a new home, we found Dante DiSabato's efforts to be extraordinarily effective. His 24/7 responsiveness, professionalism and attention to detail, made, what can be a frustrating, time consuming process, efficient with a successful outcome. Dante's excellent contacts with quality key individuals involved in the residential real estate business made the search and transaction smooth and productive." – Jack and Anne
About Haute Residence:
Designed as a partnership-driven luxury real estate portal, Haute Residence connects its affluent readers with top real estate professionals, while offering the latest in real estate news, showcasing the world's most extraordinary residences on the market and sharing expert advice from its knowledgeable and experienced real estate partners.
The invitation-only luxury real estate network, which partners with just one agent in every market, unites a distinguished collective of leading real estate agents and brokers and highlights the most extravagant properties in leading markets around the globe for affluent buyers, sellers, and real estate enthusiasts.
HauteResidence.com has grown to be the number one news source for million-dollar listings, high-end residential developments, celebrity real estate, and more.
Access all of this information and more by visiting: http://www.hauteresidence.com