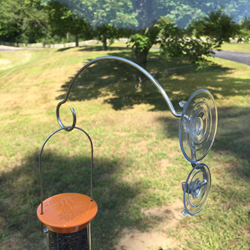 Now backyard birdwatchers can turn their hanging bird feeders into window feeders with the Window Hook
Plainfield, Connecticut (PRWEB) July 26, 2017
Droll Yankees recently introduced the Window Hook (WHK), a new birding accessory that turns hanging feeders into window feeders. Ideal for hummingbird and smaller songbird feeders, the Window Hook's 4 lb. capacity is designed to hang a variety of birding and decorative items and attaches easily to any window via 2 super strong suction cups. Its stylish, open-circle hook design flows seamlessly from the end of the sturdy arch, keeping feeders solidly in place so they won't knock off in the wind. Made of extremely durable, rust-proof stainless steel, the Window Hook adds a splash of subtle elegance that complements any space.
Consumer interest is growing in the unparalleled access to wild birds that window feeders provide, yet many people deeply love their favorite little hanging feeders. Now backyard birdwatchers can turn their hanging bird feeders into window feeders with the Window Hook, instantly creating a marvelously up-close wild bird experience.
Proximity with wildlife inspires a sense of wonder and respect for nature in children and adults alike. Slender yet sturdy, the Window Hook's low profile stainless steel wire design ensures a direct view of the birds visiting the feeder hanging below, creating a backyard birding experience so intimate that birders will feel one with nature.
Economical yet elegant, the gentle curve of the arched stainless steel hook attaches to any window via 2 super strong suction cups. A breeze to install, the Window Hook is perfect for apartments and other small living arrangements where hanging feeders can be impractical, or in cities where a patch of green space is near impossible to come by. Drawing in birds for convenient viewing, a feeder placed on the Window Hook will bring nature closer than ever before.
Its durable, quality design and practical performance give it the value that generations of birding enthusiasts have come to expect from Droll Yankees, makers of The World's Best Bird Feeders® and birding accessories since 1969. To purchase a Window Hook, stop by a local Droll Yankees retailer or visit DrollYankees.com.
###
Visit http://www.drollyankees.com to learn more about feeding birds and to purchase bird feeding products.
In 1969, Droll Yankees started a bird feeding revolution with Model A-6F, the first tubular bird feeder. Since then, Droll Yankees has built on that success, continually developing innovative approaches to bird feeding that benefit both wild birds and Droll Yankees customers. Generations of bird lovers have appreciated Droll Yankees' quality construction, functional simplicity, and commitment to American workers. Droll Yankees offers a Lifetime Warranty Against Squirrel Damage and will replace squirrel-damaged or defective feeder parts, free of charge. To learn more about Droll Yankees' products, visit http://www.drollyankees.com. Just Feed Birds and Make a World of Difference®.