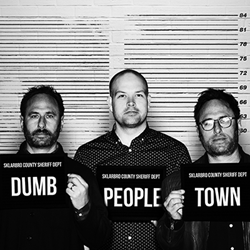 A comedy break down of the behaviors and motivations behind real news stories.
Los Angeles, CA (PRWEB) January 13, 2017
Randy and Jason Sklar's new comedy podcast, "Dumb People Town" explores and celebrates dumb people doing dumb things: naked people getting stuck in walls at K-mart, machete fights at Taco Bell, and creepy clowns waving at passing motorists for no reason whatsoever, to name a few. These real news stories serve as jumping off points for hilarious improvs and epic riff fests by the brothers, their guests, and their co-host Daniel Van Kirk.
The weekly podcast premieres on Tuesday, January 17th via Feral Audio and is hosted by The Sklar Brothers ("Sklarbro County", Netflix' "What are We Talking About?" and "Those Who Can't") and Dan Van Kirk (UCB, NFL Network, "Sklarbro County"). The show promises to provide much needed comic relief to the politically exhausted and will feature budding comedy stars and celebrity "guests" like Mark Wahlberg, Dennis Rodman, Steven Seagal, and Manny Pacquiao who leave the brothers messages in the Dumb People Town voicemail box.
Randy Sklar describes the show as "A break down of the behaviors and motivations behind real stories that confound us. It's really a group riff with Dan, our listeners and special guests giving us a canvas upon which to create characters, jokes, and memorable bits and this show will continue to evolve each week."
Dumb People Town is produced by Feral Audio, and joins the fiercely independent podcast network's other leading podcasts, Dan Harmon's, Harmontown, Call Chelsea Peretti and Kumail Nanjiani's, The X-Files Files.
About The Sklar Bros:
Well known for the popular sports comedy podcast, Sklarbro County, Randy and Jason Sklar have done comedy specials for Comedy Central and Netflix, act separately or together in many feature films, and have produced several top selling, critically acclaimed comedy albums.
About Feral Audio:
Feral Audio was founded by producer Dustin Martial, with digital media guru Jason Smith as CEO. Feral Audio is a subsidiary of Starburns Industries (SBI), the production company behind the critically acclaimed animated feature, Anomalisa and the hit animated TV series, Rick and Morty. Dan Harmon, Dino Stamatopoulos, Joe Russo II and James Fino are the founding partners of SBI.