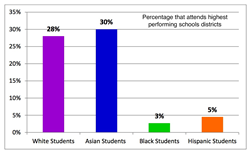 Far too many children of color live in racially isolated neighborhoods in metropolitan areas.
Syosset, NY (PRWEB) January 30, 2017
ERASE Racism, Inc. of Long Island, New York has begun the next stage of a project to increase racial integration in Long Island public schools by educating and organizing parents, students and educators; strengthening pipelines for teachers of color and educating teachers in effective practices to address diverse student populations.
The project is funded by a two-year, $200,000 grant from the W.K. Kellogg Foundation of Battle Creek, Michigan.
"Far too many children of color live in racially isolated neighborhoods in metropolitan areas," said Elaine Gross, President of ERASE Racism, adding, "Achieving our mission requires that we actively pursue racial equity for all children by addressing structural racism and its consequences, within communities and the institutions serving them."
According to Census data, Long Island is one of the most racially segregated metropolitan regions in the nation. Its fragmented public school districts mirror the high level of segregation in the region. ERASE Racism will educate and organize parents, administrators, educators and state and local elected officials to embrace and promote racially integrated learning environments.
Leveraging the expertise of more than 100 members of its Education Equity Working Group, ERASE Racism will produce resources on best practices/strategies, challenges and potential solutions. This will include creating a user-friendly "Blueprint for Integration" document based on most recent legislative, educational, and experiential accounts of the integration terrain. The organization will also work with school districts to help implement integration strategies. The ultimate goal is to expand the number of Long Island school districts that institute integrative practices and policies.
About ERASE Racism: ERASE Racism is a regional, nonprofit civil rights organization, founded in 2001 and based on Long Island, New York. It leads public policy advocacy campaigns and related initiatives to promote racial equity in areas, such as public school education, housing, and community development. It engages in a variety of research, education and consulting activities to address institutional and structural racism.
About the W.K. Kellogg Foundation: The W.K. Kellogg Foundation (WKKF), founded in 1930 as an independent, private foundation by breakfast cereal pioneer, Will Keith Kellogg, is among the largest philanthropic foundations in the United States. Guided by the belief that all children should have an equal opportunity to thrive, WKKF works with communities to create conditions for vulnerable children so they can realize their full potential in school, work and life.
The Kellogg Foundation is based in Battle Creek, Michigan, and works throughout the United States and internationally, as well as with sovereign tribes. Special emphasis is paid to priority places where there are high concentrations of poverty and where children face significant barriers to success. WKKF priority places in the U.S. are in Michigan, Mississippi, New Mexico and New Orleans; and internationally, are in Mexico and Haiti. For more information, visit http://www.wkkf.org.