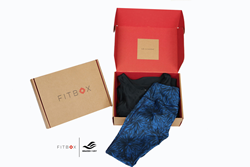 New York, NY (PRWEB) January 26, 2017
FITBOX, a monthly activewear subscription box service, announced its newest partnership with premium women's athletic apparel company, GRACEDBYGRIT, for a specially curated box, the Chelsea Box. The exclusive box includes the GRACEDBYGRIT Chelsea Legging, a sustainable legging made from recycled water bottles, and the Kate Tank, a breathable mesh tank designed with a high neckline for ultimate protection from the sun. A percentage of proceeds from each box will benefit Chelsea's Light Foundation, a foundation creating the strongest laws in the country to protect children against known violent predators. The GRACEDBYGRIT Chelsea Box is now available for sale online at http://www.iwantfitbox.com.
FITBOX and GRACEDBYGRIT understand athletic apparel is no longer reserved for just the gym. In today's growing athleisure wear industry, women are transitioning their active wear from the gym to everyday life as they juggle careers, families, social events and more. FITBOX's carefully curated boxes are designed with the woman in mind who leads an active lifestyle yet still wants to be stylish on the go. Outfits from premium fitness brands are conveniently delivered to fit the lifestyle of these modern women.
GRACEDBYGRIT is excited for the FITBOX community to see what makes GRACEDBYGRIT unique firsthand. Beyond making athletic apparel, the brand is on a mission to empower and keep women safe. Every purchase, including the Chelsea Box, comes with a safety whistle that can be securely looped on any top or bottom or placed within the front or back pocket on the waistband of the legging. "Giving back to Chelsea's Light Foundation is a large part of who we are as a company," says Sherrie Bainer, GRACEDBYGRIT Director of Sales. "Now even more women will have the opportunity to own a pair of leggings that support an incredible cause and can be worn for any workout."
The Chelsea Box is now offered for $129.99 exclusively through FITBOX. Customers will be introduced to a new brand while also supporting a cause that changes the lives of children all over the country. Founded by women, for women, GRACEDBYGRIT empowers and keeps women safe. For more details on the Chelsea Box, please visit http://www.iwantfitbox.com.
ABOUT FITBOX
FITBOX is a monthly activewear subscription box service for men and women. Every month we curate workout looks for users based on our current seasonal looks. Our collections of athletic wear are specifically curated from the top brands to fit your body, your needs and your lifestyle. At FITBOX we know that life can be hectic and unpredictable. This is why we created a convenient one-stop shop allowing you to dress to impress no matter what life throws your way. Each season, FITBOX offers members full outfits in the latest colors and styles from top brands at discounted prices. In addition, FITBOX recently introduced an easy to use mobile application called FITBOX Plus, which features articles, workout tips, promotions, healthy food recipes, workout playlists, and a Workout Buddy-a community feature that helps you find fitness friends and workout events in your area. FITBOX is not just a place to shop; it's a lifestyle destination. Life is a workout. Dress for it. http://www.iwantfitbox.com
ABOUT GRACEDBYGRIT
GRACEDBYGRIT is a women's athletic apparel brand based in Solana Beach, CA, founded in 2013 by Kimberly Caccavo and Kate Nowlan after recognizing the need for high performance, flattering and safe workout gear for women. GRACEDBYGRIT designs and manufactures premium athletic apparel that makes women feel confident, safe, and motivated to be active. All manufacturing is done in San Diego with fabrics imported from Italy. GRACEDBYGRIT is an emerging leader in the women's athletic apparel industry, where US sales have reached $44 billion, according to The NPD Group. For more information, please visit http://gracedbygrit.com/about-us.html.