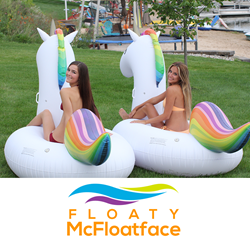 It's always a party when you have Floaty McFloatface, our floaters let you lounge, play or race
SEATTLE (PRWEB) October 24, 2017
Floaty McFloatface, a company that has distinguished itself among all others with its fun themes and mantras, proudly announces the release of their new giant unicorn water float for kids and adults.
"It's always a party when you have Floaty McFloatface. Our floaters let you lounge, play or race with your friends at the pool, beach or lake. It is a must have for every backyard because and with its bright rainbow colors and super soft finish is sure to be the life of the party. It's a swimming good time when you want to party with the swan, pineapple and flamingo float," said Ross Baker, the founder of Floaty McFloatface.
Their water floats for kids and adults are huge and well over 8 feet long and 4 feet high. This unicorn float tube adds some magic to the summer with a weight capacity up to 400lbs that can support 2 adults or a gaggle kids. It is suitable for children and adult children at heart. The floater is made of thick, phthalate free PVC and features ergonomic handles which make it durable and long lasting even when energetic kids are on board. They also have a rapid valve system which makes inflating it really fast and easy, which in turn allows kids and adults to spend more time having fun.
A pool party essential, the water float is very easy to carry and take along everywhere including road trips, to the lake, or going to a neighborhood friend's house. One can pack the pool rider in the car for "go anywhere" fun and be sure that it is not left behind for the next get together.
Floaty McFloatface offers a customer 100% satisfaction guarantee of where a full refund will be issued upon return of the item if the user is not satisfied with the product within 30 days of purchase. Free shipping is available on orders over $35.
For the Floaty McFloatface website home page, visit http://floatymcfloatface.co