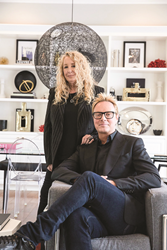 Calabasas, California (PRWEB) September 12, 2017
Haute Residence is honored to welcome Tomer Fridman and Isidora Fridman to its exclusive network of real estate agents, where they exclusively represent Calabasas, CA.
Constantly defying sales records, the uber-luxury real estate duo represents Hollywood A-listers, entertainment executives, international investors and influential millionaires. Both Tomer and Isidora possess superb communication skills, exemplary negotiating verve and in-depth market expertise – traits that advance their projects in the US, throughout Europe, and in Israel.
Known as the real estate agent to the stars, including the Kardashian family, Tomer has espoused the "one client at a time" approach, which ensures the utmost in personal service. At the same time, Tomer's Juris Doctorate from Loyola Law School and knowledge of business development and strategic planning position him as the go-to professional when it comes to exclusive new developments, expansion projects, hotel condominium construction and fractional ownership in downtown Los Angeles and the Westside.
Global Director International Markets/Luxury Estates of the Fridman Team, which is affiliated with Compass, Isidora specializes in high-end residential and commercial properties throughout Los Angeles' San Fernando Valley, Conejo Valley and Westside as well as abroad. Ranked among the top 1 % of agents in the US and Canada, she is regularly reaping awards for her craft.
So is Tomer, who has broken the $100,000,000 mark for closed sales in a single year. He is constantly recognized as a real estate authority in such eminent publications like The Wall Street Journal, Financial Times and The Hollywood Reporter.
About Haute Residence:
Designed as a partnership-driven luxury real estate portal, Haute Residence connects its affluent readers with top real estate professionals, while offering the latest in real estate news, showcasing the world's most extraordinary residences on the market and sharing expert advice from its knowledgeable and experienced real estate partners.
The invitation-only luxury real estate network, which partners with just one agent in every market, unites a distinguished collective of leading real estate agents and brokers and highlights the most extravagant properties in leading markets around the globe for affluent buyers, sellers, and real estate enthusiasts.
HauteResidence.com has grown to be the number one news source for million-dollar listings, high-end residential developments, celebrity real estate, and more.
Access all of this information and more by visiting: http://www.hauteresidence.com