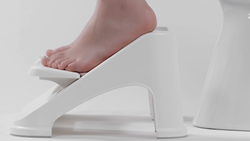 The consequence of not squatting while using the toilet can be so grave, and yet the solution is so simple. Especially with the height-adjustable FUSION model (Turbo Stool series from NadiaLabs).
Sunnyvale, CA (PRWEB) March 28, 2017
For most, bathroom trips are a daily ritual, a monotonous and boring one. That is, if one does not have constipation, hemorrhoids, or such, in which case it can be much worse. But no worries, the team at NadiaLabs is set out to change all that, and make bathroom visits a fun time, every time.
Tikeswar Naik (aka Tikka), co-founder of NadiaLabs, says, "Everyone uses the toilet. But most use it the wrong way, and are even unaware that there is a right way." In fact there are many studies that show that one should squat, and not just sit, to poop. Because that is how human body is designed. In short, sitting creates a natural kink in the colon to maintain continence, while squatting straightens the kink for a clean and healthy release.
However, squatting is not everyone's forte, so there are plethora of stools in the market that can help one squat. But the problem is, a given household has people of different heights and squatting experience – thus, typically one size footstool does not fit all. This is one key area where NadiaLabs excels – toilet stool designs that offer easily adjustable squat – "No tools necessary and no cumbersome mechanisms involved," Tikka points out.
Easy adjustability was achieved by the signature ramp design in the original and flagship TURBO Stool, where one could simply move feet front and back to adjust the squat intensity. The Turbo FUSION (aka FUSION) takes the adjustability to the next level. It has a toe-piece which can be physically height-adjusted to suit one's own height, experience, and taste. It is all done through a clever patent pending mechanism; done with ease and on the fly, without the need of any tools.
There is another key area where NadiaLabs excels. As Tikka says, "It is not about selling stools, it is about enhancing the bathroom experience." This has to do with the aesthetics and how users interact with the design. "FUSION was crafted carefully not to look like a stool, and was designed to provide seamless user interaction," Tikka continues. "You will love to keep it in the bathroom and look forward to using it everyday. Feel proud of 'go'ing in style, and inspire fellow beings," he adds.
But why spend on a toilet stool when any step stool will do? Tikka says, "Just like a pair of good shoes is well worth the investment for running, even though one can manage with a pair of flip-flops."
Who said a squat stool had to look like a stool? And who would have thought a squat stool could be so stylish and functional? NadiaLabs has completely reinvented the 'wheel of motion'.
All these did not come easy though. In Tikka's own words, "After 3 years of serial failures, I had struggled for my own health and survival, when dad shared some ancient wisdom and gave some basic tips. That planted the seed for the new company, which has now grown to this stage."
For more information on FUSION, and to pre-order, visit the Kickstarter campaign page.