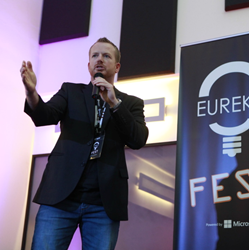 "The OC tech scene is booming. With core facilities like the Eureka Building, The Cove at UCI Applied Innovation, EvoNexus and the Urban Workshop, there are more and more events happening in OC to support the growing number of entrepreneurs."
Irvine, California (PRWEB) March 28, 2017
The Eureka FEST, powered by Microsoft, announces their host and Master of Ceremonies, Ryan Foland, public speaking guru and Co-Founder of InfluenceTree, for the third annual startup celebration conference. As the largest event in Orange County focusing on the future of entrepreneurship and tech startups, Eureka FEST celebrates the growth and successes of Orange County's booming tech and startup scene on April 8 at the Eureka Building in Irvine.
"Eureka FEST plugs one of the biggest tech communities in Southern California into the biggest event of its kind in Orange County, and to have a host who's imperative to the Silicon Beach community brings us great value", said Peter Polydor, Eureka FEST Founder & CEO of ERGO Capital. "Ryan, aka GingerMC, is known for his high energy, humor and ability at keeping audiences excited and engaged, all keys to the success of large events like Eureka FEST."
Starting with his position running the Blackstone LaunchPad (now known as the ANTrepreneur Center) at the University of California, Irvine, Foland since has been bridging Silicon Beach with the OC startup scene. Bringing students from UCI to Santa Monica startup events, he was successful in connecting early stage entrepreneurs with Silicon Beach. Also, Foland is the co-organizer and host of the fastest growing tech MeetUp in Orange County, boasting over 5,000 active members and monthly gathering of 300+ attendees, OC Tech Happy Hour.
"Ryan is a big part of the Orange County startup community, so it only makes sense that he is our main emcee for this collaborative event," said Taylor Decker, director and event organizer of the Eureka Building. "Ryan, who has close ties with the University of California, Irvine, has also been instrumental in helping us connect with local universities and college students who are interested in learning more about entrepreneurship."
About Ryan Foland:
Foland can be seen on stage as Master of Ceremonies at some of the largest startup events in Los Angeles including TechDay, Expert Dojo Investor Festival, IDEAS LA, Green Festival LA, Digital Hollywood, and more. He is a sought after TEDx host, and has worked with TEDxUCIrvine, TEDxSantaMonica, and most recently TEDxLA. Foland is well-versed in the Irvine and OC community - he is a radio show host for Get Notified on KUCI and in early 2015, helped organize and launched the Irvine chapter of 1 Million Cups, a weekly startup pitch event that has featured over 200 entrepreneurs to date.
When not onstage, Ryan coaches leaders worldwide on the art of simplifying spoken and written messaging for greater impact. Ryan has been recognized by Inc. Magazine as a Top Youth Marketer in 2016 and named by Entrepreneur Magazine as a Top Personal Branding Expert in 2017. Ryan's company InfluenceTree, specializes in helping individuals discover, build and grow their personal brands. To book Ryan for your event/conference or to learn more, visit his website http://www.RyanFoland.com.
About Eureka FEST:
Eureka FEST powered by Microsoft celebrates being an entrepreneur in Orange County with music, pitches, and parties. After hosting some of the best tech, learning and networking events Orange County has to offer, Eureka decided to launch its own signature event called Eureka FEST in 2015. This event was created as a way to celebrate startups and entrepreneurship in Southern California with a day of awesome speakers, demos, pitches, connecting opportunities and a party to wrap it all up.
CONTACT
Jasmin Martin
jasminj.martin(at)gmail(dot)com
818-268-7729