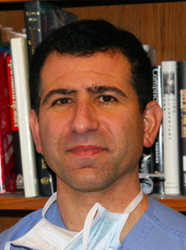 I want to create a natural balance and harmony
San Francisco (PRWEB) June 19, 2017
Haute Beauty welcomes Dr. Hayes Gladstone, a distinguished San Francisco Bay Area-based dermatologic surgeon, to its exclusive network of beauty and wellness experts.
With two decades of experience in reconstructive and aesthetic procedures, Dr. Gladstone will advise Haute Beauty readers on hair care and restoration.
Heading the successful Gladstone Clinic in San Ramon, California, Dr. Gladstone currently specializes in follicular unit extraction hair transplants through advanced SmartGraft technology. Following the latest tech developments in medicine such as nanotechnology and molecular targeting, Dr. Gladstone keeps his patients at the center of his attention and compassion.
The son of a Midwest general practitioner, whose attentiveness to patients fascinated him, Dr. Gladstone adapts his procedures and techniques to the particular needs of his patients. Yielding minimally invasive procedures such as injectables and lasers, he sculpts aesthetically appealing results.
"I want to create a natural balance and harmony," Dr. Gladstone said. "I want to create a result, which represents the best of the patient at that particular time point, rather than focusing on making that person appear 10-15 years younger. I want the patient's friends to say 'Wow, you look great and rested,' but are not sure why—they don't realize that the patient had a cosmetic procedure."
About Dr. Gladstone:
Before entering medicine, Dr. Gladstone was a sports editor and professional photographer in Colorado. He earned his medical degree from the University of Rochester School of Medicine, and went on to complete his surgical internship and a research fellowship at the University of California, San Francisco. After training in Otolaryngology-Head and Neck Surgery at the University of Washington, he decided to transition to Dermatology and also completed an NIH fellowship also at the University of Washington. He followed with a fellowship in Mohs Surgery, Reconstruction and Cosmetic surgery under the mentorship of renowned dermatologic surgeon Ronald L. Moy, MD at the University of California, Los Angeles. Dr. Gladstone holds medical licenses in California and Hawaii and is certified by the board of Dermatology through 2021.
Regarded as an intellectual authority and thought leader in his field, he has been invited to many conferences all over the world to give presentations and lectures regarding cosmetic surgery and dermatologic surgery. He has been on the Board of Directors and the past President of the San Francisco Dermatology Society as well as the Board of Directors and past President of the Pacific Dermatology Association, the largest regional dermatology society in the United States. He was also on the Board of Directors of both the San Mateo Division and the California Division of the American Cancer Society. He is the past Director of the Annual Meeting of the American Society of Dermatologic Surgery and is currently on its Board of Directors.
Dr. Gladstone is perhaps most renowned for co-founding the nonprofit Blade and Light International with Dr. Murad Alam of Northwestern in 2003. The organization aims to provide patients in developing countries with limited resources comprehensive surgical dermatologic treatment including Mohs surgery, as well as education and training for physicians in those parts of the world.
About Haute Beauty:
Haute Beauty is affiliated with luxury lifestyle publication Haute Living. A section of Haute Living magazine, Haute Beauty covers the latest advancements in beauty and wellness and provides readers with expert advice in the most innovative aesthetic and reconstructive treatments through its network of acclaimed surgeons.
Visit Haute Beauty at: http://hauteliving.com/hautebeauty/