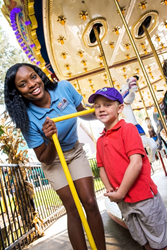 Lancaster, PA (PRWEB) January 23, 2017
Dutch Wonderland is more than just A Kingdom for Kids! – It's a kingdom with exciting opportunities for students ages 16+, teachers, retirees, and those who share the goal of providing excellent customer service. Dutch Wonderland Family Amusement Park is seeking team members to fill a variety of indoor and outdoor positions for the summer season. Make a difference by creating unforgettable memories for the families who visit the park.
Dutch Wonderland team members enjoy exclusive perks and privileges when working throughout the season. Aside from meeting new friends, gaining valuable job experience, obtaining a flexible schedule, and earning a paycheck, team members can earn complimentary tickets to Dutch Wonderland. In order to celebrate the efforts and success of the team, a variety of themed employee parties are held throughout the year. Dutch Wonderland also partners with many local parks and attractions that provide complimentary admission to Dutch Wonderland team members. For those who are looking to take their job experience to the next level, Dutch Wonderland offers many advancement opportunities to those who exhibit leadership and responsibility.
Join the team for the 2017 season! Candidates must apply online at http://www.DutchWonderland.com. Dutch Wonderland is an Equal Opportunity Employer.
About Dutch Wonderland:
Dutch Wonderland is part of the Palace Entertainment family of parks. Palace Entertainment is one of the leading leisure park operators in the United States. With parks located in 10 states, Palace Entertainment continues its expansion of brands within the family entertainment sector. The company operates Kennywood amusement park in Pennsylvania, Noah's Ark water park in Wisconsin, Splish Splash Water Park in New York, and Raging Waters in California, among many other family favorite destinations. Palace Entertainment parks provide family oriented and affordable attractions to visitors of all ages, offering a wide range of attractions, such as roller coasters, Ferris wheels, live shows, variable depth pools, water slides, animal shows, miniature golf courses and arcade games. Palace Entertainment greets millions of visitors annually.
For more information concerning Dutch Wonderland Family Amusement Park and Old Mill Stream Campground at Dutch Wonderland, please call 1-866-FUNatDW or visit http://www.DutchWonderland.com.