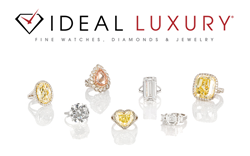 Ideal Luxury has establish themselves as the premier solution by providing fair and honest services in a private and discreet environment that customers can't find elsewhere.
Newport Beach, CA (PRWEB) October 11, 2017
Ideal Luxury and owner Mark Schechter have recently received well earned attention as a leader in the secret niche of luxury pawnbrokers who service affluent clientele. As recent featured profiles in Coast Magazine, The Orange County Register, WealthManagement.com and The New York Post show, this small business located in Tustin, CA has built a reputation as a goto resource for customers looking to deal in high-end watches, diamonds, jewelry and other luxury items.
Ideal Luxury's business model has been a simple one since it's inception nearly 5 years ago: Buy, Sell and Loan on fine watches, diamonds and jewelry in a professional, discrete, comfortable and secure setting. Clients are met at Ideal Luxury's offices by appointment only, and are treated to the highest level of customer service from initial consultation through and long after the closing of any particular transaction. And, while they deal in high-end luxury items, there is no pretentious or overbearing attitudes, but rather a down to earth, attentive and personal nature in dealing with their clients' various needs. It is very clear that Ideal luxury is dedicated to building long lasting relationships and not just closing deals.
What makes Ideal Luxury stand out from others in the industry? For one thing, it is the owner Mark Schechter himself who simply puts clients at ease with his honest, transparent and no pressure approach. This, combined with his vast knowledge and expertise in dealing with these luxury items has earned Ideal Luxury an impeccable record throughout the community, as well as on Yelp, Google, eBay and the popular luxury marketplace 1stdibs.
Presentation and service is another key factor in making the business standout, as clients are greeted with an office setting that is at the same time both comfortable and secure, giving them traditional pawnshop value without the traditional pawnshop experience. Finally, the simple fact that Schechter is dedicated to offering the best deal possible to his customers whether buying, selling or getting a loan, keeps them coming back and referring others to make an appointment.
How can they make such great deals? The saying "it's not what you know but who you know" isn't foreign to the jewelry business. Most people assume when walking through their local high end jewelry retailer that all of the inventory belongs to the house. The truth behind the scenes is a long-standing and well established arrangement between the retailer and an anonymous wholesaler who ultimately owns many of the pieces. The wholesaler "memos" the inventory to the retailer and they sell it, and of more importance at an egregious mark up. In short, that "million dollar diamond" you see in the showcase isn't worth nearly a million dollars. The more expensive and rare the item, the more unique and rare the wholesaler. Which means that the world's large and rare diamonds are controlled and distributed via memo by only a small list of families globally. Mr. Schechter and Ideal Luxury are fortunate enough to have earned direct relationships with some of these same families, and operate a much leaner business, which translates to incredible deals for his clients. Without the ego or the overhead he can discreetly produce the same items, common place or rare at a significant discount.
Many people are sitting on valuable items that they're not sure what to do with. For various reasons such as divorce, death, bankruptcy and more they decide to sell their items for cash, but they don't know who to turn to. Ideal Luxury has been a prime resource for these types of clients, many of whom return multiple times because of the trust they put in Mr. Schechter and his business. It's very clear what people value about Ideal Luxury by reading their online reviews; private, discreet, honest, no pressure. These are just a few examples of how customers have described their experience. Additionally, Ideal Luxury offers a reasonable consignment program and the perfect global marketplace to sell luxury goods for those clients looking to sell, but aren't in a hurry or immediate financial need.
GETTING A LOAN FROM IDEAL LUXURY
Everyone, no matter what level of income can find themselves in need of extra cash. When people are in a pinch, short-term borrowing is a forgotten option and a breath of fresh air for many business men and women who have a sudden and unexpected gap in their finances. It may not be their first thought, but the watches, diamonds, jewelry and handbags they've accumulated are the solution to their financial dilemma. In a simple and brief transaction they'll have the money they need to solve their problem without the traditional evasive and slow procedure they're accustomed to at the bank. As with all services at Ideal Luxury, the loan process is private, discreet and a no-pressure transaction. Ideal Luxury's high level of service and even-handed treatment of their clients is present in every loan they make. Many Ideal Luxury customers will take out a loan, pay it off and return for the same loan multiple times throughout the year, as the process is simple, easy and provides a solution that a traditional bank simply cannot offer.
Whether buying, selling or borrowing on luxury goods Ideal Luxury has establish themselves as the premier solution by providing fair and honest services in a private and discreet environment that customers can't find elsewhere. Attributes like these are not commonly associated with a pawnshop, but there's clearly nothing common about Ideal Luxury.