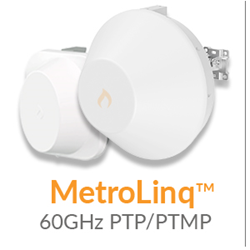 This is certainly a record distance for us and we believe a record with any platform to deliver a gigabit connection on the 60 GHz unlicensed frequency.
Irvine, CA (PRWEB) March 03, 2017
Triad Wireless and IgniteNet™ recently teamed up to test the limits of IgniteNet's MetroLinq™ point-to-point (PTP) platform. On the outskirts of Phoenix, AZ Triad had a need for a gigabit PTP connection across a 1.5 mile (2.4 km) stretch connecting two access points. The signal level achieved was -61dBm with a modulation rate of 2310 Mbps, which are great statistics for this particular link distance. The 60 GHz MetroLinq™ product was an ideal option for bridging two remote locations with 1 Gbps of real speed. It is a perfect solution to provide fiber-like wireless connectivity and also a great substitute for the crowded ISM band (2.4 and 5 GHz) wireless equipment due to virtually noise-free spectrum and ultra-high capacity of MetroLinq™ radios operating not only in a point-to-point (PTP) but also in a point-to-multipoint (PTMP) scenario.
"We are deploying a lot of high-capacity PTMP customers to compete with traditional DSL and Cable. To make this work profitably and to provide services of 200Mbps+, we find that the MetroLinq radios fit our model perfectly. We are actively redesigning our networks right now to incorporate more of them into our network." said Rory Conaway, CEO of Triad Wireless.
"This was a perfect chance to showcase the MetroLinq's distance capabilities and give Triad Wireless a high capacity link over a long distance" said Chad Dewey, VP of Product Design at IgniteNet. "This is certainly a record distance for us and we believe a record with any platform to deliver a gigabit connection on the 60 GHz unlicensed frequency. Triad is a cutting edge wireless service provider and one of the world's first wireless ISPs to deliver a high-speed (200 Mbps) internet plan. 60 GHz products from IgniteNet are definitely a key technology for WISPs like Triad Wireless requiring high-capacity links to deliver, data, VoIP or even triple play services and stay ahead of competition."
About MetroLinq™
The key to bringing gigabit internet connections to more customers is providing the right combination of cost and speed of deployment. IgniteNet's MetroLinq platform is the first to reach this milestone and allow operators to quickly deploy fiber-like wireless service across large areas at unprecedented price-points. Operators with fiber assets can add MetroLinq to their network to build hybrid fiber-wireless networks to lower costs and speed up the deployment. For operators without fiber assets, MetroLinq allows pure "wireless fiber" networks to be built quickly. MetroLinq's competitive cost brings new opportunities for service providers and enterprises enabling them to reach fiber speeds using the 60 GHz globally unlicensed wireless band as an alternative to other licensed or unlicensed band solutions available on the market today.
Headquartered in Irvine, CA, IgniteNet is a wholly owned subsidiary of SMC Networks, Inc. IgniteNet has a proven track record of producing powerful, reliable, and easy to deploy, innovative cloud managed wireless solutions and the industry's lowest cost 60 GHz wireless technology through channel partners worldwide focused on Enterprises and service providers. 
For more information, visit http://www.ignitenet.com