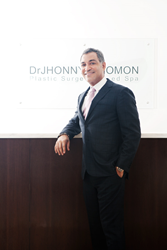 The surgical process begins as medicine, and then slowly becomes an art.
Miami, Florida (PRWEB) June 20, 2017
Dr. Jhonny Salomon, leading plastic surgeon of South Florida, rejoins the prestigious Haute Beauty network of experts in beauty and wellness. As a member, Dr. Salomon is to continue educating and counseling readers on the best face and nose procedures and treatments.
Dr. Salomon is known as the "face man," who meticulously studies his patients. First, he examines photographs from previous years to determine how this clients have aged. Then, he relies on his extensive knowledge and expertise of the human face and body to develop a customized plan for each and every patient.
Dr. Salomon believes, "the surgical process begins as medicine, and then slowly becomes an art" and strongly objects to cookie-cutter techniques. Although every patient requires a different approach, with Dr. Salomon, the results are always the same – a natural and elegant look.
The author of numerous articles in prestigious scientific journals, Dr. Salomon operates a state-of-the-art Plastic Surgery and Medical Spa facility in Miami, where he provides a broad spectrum of services that begin with a highly experienced, detail-oriented staff. He has served patients from South Florida, New York and abroad for over a decade.
At his practice in New York, Dr. Salomon offers a full range of invasive procedures, which include: face and neck lifts, blepharoplasty, rhinoplasty, liposuction, fat grafting, tummy tuck, and breast surgeries. As an experienced Board Certified Plastic Surgeon, Dr. Salomon implements innovative processes to minimize risks and optimize recoveries while offering the best possible care.
About Dr. Jhonny Salomon:
Dr. Salomon graduated Magna Cum Laude with a Bachelor of Arts in Medical Science, along with a Doctorate from the School of Medicine from Boston University. He served his General Surgery Residency at the University of Connecticut, where he received a Degree in Categorical General Surgery. He was then a resident in Plastic and Reconstructive surgery at Brown University and granted a fellowship in Craniofacial Surgery from the University of Texas Southwestern Medical Center. Dr. Salomon has been Board Certified by the American Board of Plastic and Reconstructive Surgery since 1999.
He has been a member of the Editorial Board of the journal Selected Reading in Plastic Surgery since 1997. He is also a member of the American Society of Plastic Surgeons, The Florida Society of Plastic Surgeons, and the Dade Medical Society.
About Haute Beauty:
Haute Beauty is affiliated with luxury lifestyle publication Haute Living. A section of Haute Living magazine, Haute Beauty covers the latest advancements in beauty and wellness and provides readers with expert advice in the most innovative aesthetic and reconstructive treatments through its network of acclaimed surgeons.