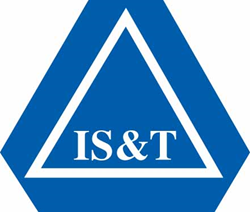 "This new journal, with the scope of research and applications related to the perceptual and cognitive aspects of imaging technologies and aesthetics, will provide the ideal publication for those who have been searching for a publishing opportunity in this dynamic area of research."
Springfield, VA (PRWEB) October 02, 2017
The Society for Imaging Science and Technology (IS&T) is pleased to announce the launch of a new peer-reviewed, open access academic journal—the Journal of Perceptual Imaging (JPI). The goal of the journal is to publish research in perception and cognition that supports, or is inspired by, imaging technologies and applications. JPI's international and multidisciplinary editorial board is led by Editors-in-Chief Bernice Rogowitz (Visual Perspectives and Columbia University) and Thrasyvoulos Pappas (Northwestern University).
Drs. Rogowitz and Pappas have been instrumental to the success of the IS&T Conference on Human Vision and Electronic Imaging (HVEI). IS&T Publications Vice President Susan Farnand (Rochester Institute of Technology) notes that JPI perfectly builds on the HVEI conference. "Those who work in the space in which the sciences of perception and imaging overlap, have been presenting their results at the HVEI conference at IS&T's Electronic Imaging Symposium for 30 years," Farnand explains. "This new journal, with the scope of research and applications related to the perceptual and cognitive aspects of imaging technologies and aesthetics, will provide the ideal publication for those in the HVEI community and others who have been searching for a publishing opportunity in this dynamic area of research."
JPI is launching as the world of electronic imaging is exploding, from its earliest roots in image processing, printing, and display technology to its vibrant branches in visualization, image search, internet applications, and art. Some of the biggest advances in this field have been driven by insights and advances in psychology and vision science, including JPEG and MPEG coding, image quality metrics, high dynamic range imaging, and color guidance for visual analytics.
"The earliest cave drawings and the most advanced imaging technologies share a common goal—to help us communicate and make decisions about the physical and abstract world. Those perceptual and cognitive mechanisms are at work when we interpret medical images, immerse ourselves in virtual reality environments, or judge the visual quality achieved by a compression algorithm," explains Rogowitz. "This new journal provides a multidisciplinary forum for two complementary research agendas: (1) how advances in technology are driven by research in how we process color, shape, movement, and stereo information, how attention and memory processes work, and how we make aesthetic and emotional judgments; and (2) how current and emerging visual, auditory, haptic and immersive technologies, and their applications, drive new research questions in vision science, cognitive neuroscience, and psychology."
In the tradition of other IS&T journals, the JPI manuscripts published will rely on a thorough peer-review process. All JPI papers will be available as open access papers in the IS&T Digital Library. The first publication of JPI is expected in early 2018. Submissions can be made directly to JPI for review and publication upon acceptance or through the JPI-first option at the IS&T Electronic Imaging Symposium.
"Along with a new publishing opportunity, we expect synergies between the Journal and HVEI and other conferences that will help to attract additional researchers to the entire IS&T community," says Farnand.
Visit the JPI website for more information and submission guidelines.
About IS&T: The Society for Imaging Science and Technology (IS&T) is an international professional non-profit dedicated to keeping members and other imaging professionals apprised of the latest developments in the field through conferences, educational programs, publications, and its website. IS&T programs encompass all aspects of the imaging workflow, which moves from capture (sensors, cameras) through image processing (image quality, color, and materialization) to hard and soft copy output (still, motion, print, displays, image permanence), and include aspects related to human vision and machine vision, such as object recognition, image quality, and color. The Society also focuses on a wide range of image-related applications, including security, virtual reality, mobile imaging, and data analysis. Follow IS&T on Twitter: @ImagingOrg