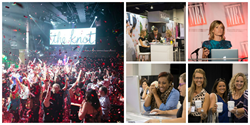 "Having an opportunity to share collaborative strategies that can assist planners in creating a more inclusive experience for their couples and guests is huge"
Wilmington, DE (PRWEB) July 25, 2017
Traveler's Q has secured an exhibitor spot at the Wedding MBA Convention, which will take place October 2-4, 2017 at the Las Vegas Convention Center in Las Vegas, NV.
The popular convention for wedding professionals is one of the most widely attended in the industry and is expected to draw in approximately 4,000 attendees, including caterers, photographers, officiants, deejays, videographers, bakers, florists and wedding planners.
"We are thrilled to join the network of Wedding MBA," said Adrianne Phillips, owner and CEO of Traveler's Q. "And we are looking forward to connecting with other professionals in the wedding industry to create lasting partnerships."
In addition to being able to connect with hundreds of wedding planners to discuss their clients' travel needs, the staff from Traveler's Q will also have the opportunity to attend over 120 business seminars during the convention, on pertinent topics like branding, communication, marketing and sales techniques.
"Having an opportunity to share collaborative strategies that can assist planners in creating a more inclusive experience for their couples and guests is huge," said Phillips. "I believe in supporting our clients and maximizing our strategic partnerships through education. There is a lot of upside for them!"
Traveler's Q will also be taking a trip this month to explore one of the most romantic, all-inclusive beach resorts in Cancun - Secrets Maroma Beach. Hidden away on a pristine beach, this five-diamond resort is one of Traveler's Q's preferred partners. It's also a popular destination for both newlywed couples and those planning a destination wedding.
"Secrets Maroma Beach is an exquisite location for couples to tie the knot in luxurious style or to relax after the big event is over," said Phillips. "We look forward to revisiting this resort as we coordinate the next destination wedding for one of our fabulous couples. Secrets has been a preferred partner for the last 5 years, and we're exciting to partner in creating another incredible guest experience."
About Travelers Q
Traveler's Q is a full-service travel management agency specializing in domestic travel planning for businesses and event planners. With services including event sourcing, event travel management, on-site support and assistance with event technology, they go above and beyond to provide clients with an exceptional experience. For more information on Traveler's Q, visit http://www.travelersq.com.
Media Contact:
Adrianne Phillips
Traveler's Q
302-660-3680
admin(at)travelersq(dot)com