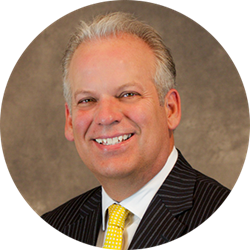 If you're going to quit your job, you need income.
Littleton, Colorado (PRWEB) March 07, 2017
Tucker Advisors, one of the nation's largest insurance field marketing organizations, recently held a national training conference for top insurance producers in Littleton, Colorado. The keynote speakers included Karlan Tucker, CEO, Tucker Financial Solutions and Tom Hegna, PBS TV host and best-selling author of "Don't Worry, Retire Happy."
Tucker and Hegna reviewed retirement topics including income planning, annuities, and happiness in retirement.
According to Tucker, most retirees are concerned with "outliving their life savings, because they [retirees] don't know how long they're going to live." Hegna agreed, "The long-term care threat…can wipe out your life savings."
To lower longevity risks, Tucker recommends that an individual self-fund a pension with their 401K accounts. An individual can create a pension by converting a 401K with a fixed index annuity into "a safe opportunity to grow for the purpose of generating income."
Hegna recommends that individuals work with a financial advisor to assist in developing a retirement income plan. In his book, "Don't Worry, Retire Happy" he provides seven simple steps to plan for retirement
Hegna stated that individuals should use life insurance as the most efficient way to transfer wealth. Tucker recommends fixed index annuities to many of his clients as a way to produce income in retirement. Tucker said, "If you're going to quit your job, you need income."
Hegna noted, "Today's media is all about investing in the market." Hegna reminds Baby Boomers, "once you hit retirement, you're in the distribution phase and it's all about guaranteed income while taking key risks off the table." A key to a happy retirement is eliminating or lower the longevity risks.
Tucker noted, "An individual doesn't know how long they are going to live. That's a longevity risk and most retirees never get the income right. They have a pile of assets. They either take too much and run out of money, or take too little, and then they sacrifice the quality of their retirement." Tucker said, "Every day I help individuals with retirement income plans. This is the first step in having a happy and quality retirement."
About Tucker Financial Solutions:
Tucker Financial Solutions, a retirement planning, financial advisory and investment firm, specializing in fixed index annuities, life insurance, asset management, and college funding. Tucker Financial Solutions, founded in 1991, is located in Littleton, Colorado. Tucker Financial Solutions is part of the Tucker companies, which include Tucker Advisors, Tucker Asset Management, and Tucker College Solutions.