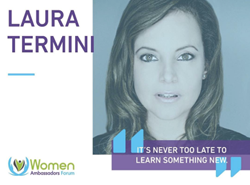 Being Realmente Unica is the only way I can be
Dallas, Texas (PRWEB) June 05, 2017
Actress, speaker and media entrepreneur Laura Termini will be a keynote speaker at the third annual Women's ambassador forum in Dallas Texas, Wednesday, June 7th
Laura is a well-known influencer in the Latino community. Starting her career as a TV personality in Venezuela, she became a popular influencer in her community, cultivating a loyal audience that follows her lead.
Laura regularly appears on major national news and entertainment networks in the United States such as CNN among many others. As an entrepreneur, she has worked to help major national brands gain larger followings, achieve recognition, and improve sales thru her platform http://www.chicanol.com. As a Latina leader with extraordinary reputation and accomplishments, she recently pre-launched her book, "Realmente Unica" https://goo.gl/N9AfH as a guess at the annual Utah's Hispanic Chamber of Commerce Women's event, as part of an initiative to inspire women to find and accept their uniqueness to stand out in life.
About WAF: Women Ambassadors Forum is an organization whose goal is to inspire women and guide them towards achieving professional success and equality. WAF works to provide young women with a platform to improve their leadership skills, become independent members of society, and seek their own economic empowerment. During this year's annual five-day forum, WAF's ambassadors will learn from distinguished guest speakers, who are successful leaders from a wide range of backgrounds and professions.
WHERE: Southern Methodist University in Dallas, TX Wednesday JUNE 7th, 11:30am
WHO'S LAURA : https://goo.gl/hyuup4
To book Laura as a speaker for your event or media inquiries:
Tiranube Productions
corina(at)tiranube(dot)com
rafael(at)tiranube(dot)com
+19545128600
To purchase Realmente Unica
https://goo.gl/N9AfHp