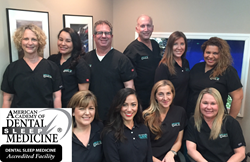 Twenty five years ago, who would have thought that saving lives with oral appliance therapy would become a major part of our dental practice. Once you experience that feeling its hard to let go of it. That feeling has fueled the passion that inspires us.
Long Island, NY (PRWEB) January 12, 2017
Accredited dental offices are amongst an elite group of facilities around the country recognized for their excellence of care and professionalism in treating patients with obstructive sleep apnea. In order to become accredited, a facility must meet high standards outlined by the AADSM. These standards detail guidelines for doctors and staff, policies, procedures, care, treatment, billing, follow up, and safety.
Neal Seltzer, DMD, and Jeffrey S. Rein, DDS are both Diplomates of the American Board of Dental Sleep Medicine, Diplomates of the Academy of Clinical Sleep Disorders Disciplines, and Diplomates of the American Sleep and Breathing Academy.
Since 1991, Long Island Dental Sleep Medicine has been treating patients who suffer from obstructive sleep apnea and snoring, with oral appliances. With twenty five years of experience, their office is a leader in this field locally, as well as nationally. Their office is the official Pro Player Health Alliance office for the New York Metropolitan area. The Pro Player Health Alliance helps retired athletes from the NFL treat obstructive sleep apnea with oral appliance therapy.
The entire staff at Long Island Dental Sleep Medicine is educated and trained in the understanding and treatment of obstructive sleep apnea with oral appliance therapy. This assures personal quality care from a patient's initial contact with our office, through the entire process of treatment and beyond. They work closely with the patient's entire medical team to communicate all stages of treatment with your office, coordinate optimum care, and follow up with long term monitoring.
Oral appliance therapy can offer an alternative from, or adjunct treatment to, CPAP or surgery for the treatment of obstructive sleep apnea. Long Island Dental Sleep Medicine can now offer compliance monitoring for oral appliance therapy utilizing an embedded, FDA cleared, micro recorder for those patients who need to prove compliance for insurance or industry safety. Their office is experienced in coordinating medical insurance benefits and are in network with many medical insurance companies to help minimize cost for their patients.
For more information about snoring, sleep apnea, oral appliance therapy, and Drs. Neal Seltzer, DMD and Jeffrey S. Rein, DDS please call Long Island Smile at 516-741-6202 or visit 101 Hillside Ave., Suite A, Williston Park, NY 11596.