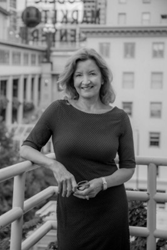 Wherever my clients may be, I have the ability to ensure that they enjoy elegant, exceptional living — and that the very best of their cities is always at their fingertips.
Seattle (PRWEB) June 28, 2017
Prominent Seattle-based real estate agent Moira Holley continues her extensive partnership with the exclusive Haute Residence Real Estate Network.
Moira Holley is a Co-Founder and Founding Director of Realogics Sotheby's Realty. Since 2010, Moira has been ranked as the leading Broker for all RSIR Brokerages, and she is consistently listed among the top 1% of the Northwest's most successful luxury real-estate leaders. Lauded for her exceptional achievements within the luxury real estate sector, in 2017 Moira was selected for membership within Sotheby's Market Leaders Forum, an invitation only forum comprised of 45 of the top US brokers within Sotheby's International Realty.
Insightful individuals—from Fortune 50 executives to Startup success stories and discerning city professionals—rely on Moira's knowledge, tenacity and advice when they select the country retreat, waterfront estate, in-city house, condominium or loft providing them with the perfect Northwest—or global—abode.
Regarded by local and national media as an expert on trends within the luxury real-estate sector, Moira's adept analysis has been featured in The Wall Street Journal, The Puget Sound Business Journal and other leading business, professional and sector specific publications.
Moira also harnesses her decades-long knowledge of trends within the local and global luxury real-estate markets, to generate national and international media coverage for many of her clients in premier luxury lifestyle and real estate platforms, including Lux Life, KING 5 Un-Real Estate, and The Wall Street Journal.
"The city, our region and I have grown and progressed together. Today, Seattle is the global gateway where East and West converge. Northwest CEO's seek second homes in Shanghai, while the best and brightest from the Pacific Rim embrace Seattle, for its cultural diversity and economic dynamism. Seattle is international—and wherever my clients may be, I have the ability to ensure that they enjoy elegant, exceptional living — and that the very best of their cities is always at their fingertips."
Moira is a strong supporter of many of the Northwest's most respected community service organizations, including Mary's Place, the Film School, The Seattle Art Museum, the Olympic Sculpture Park, The Seattle Humane Society, the DT Fleming Arboretum and the Evergreen Golden Retriever Rescue.
A happy resident of one of Seattle historic lakefront neighborhoods, Moira is married to Mr. Scott Wasner.
About Haute Residence:
Designed as a partnership-driven luxury real estate portal, Haute Residence connects its affluent readers with top real estate professionals, while offering the latest in real estate news, showcasing the world's most extraordinary residences on the market and sharing expert advice from its knowledgeable and experienced real estate partners.
The invitation-only luxury real estate network, which partners with just one agent in every market, unites a distinguished collective of leading real estate agents and brokers and highlights the most extravagant properties in leading markets around the globe for affluent buyers, sellers, and real estate enthusiasts.
HauteResidence.com has grown to be the number one news source for million-dollar listings, high-end residential developments, celebrity real estate, and more.
Access all of this information and more by visiting: http://www.hauteresidence.com