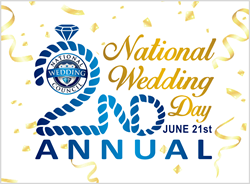 More than ever, the world needs a lot more love in it.
White Plains, NY (PRWEB) June 21, 2017
The National Wedding Council has declared today, June 21, 2017, its 2nd Annual National Wedding Day, a day set aside for appreciating our wedding professionals and for celebrating all things love and marriage.
When a wedding goes well, it will be remembered as one of the best days in the life of one of the nearly 5 million people that wed in the United States each year. The vendors, if they've done their job right, will fade into the background and their work will quietly contribute to a seamlessly magical night that no one there will soon forget. When a wedding goes wrong…well, that's what the National Wedding Council is here to prevent. But the industry's watchdog also believes we should recognize those behind-the-scenes superstars that make those special days all that they are.
National Wedding Day 2016 was the beginning of doing just that. The event inspired memorable posts from professionals and couples alike. The day of recognition was long overdue and sites such as People Magazine, NBC, Yahoo and the Cake Boss joined in the celebration.
This year, the industry-wide celebration will reach even further with more opportunities for wedding professionals, married couples and even engaged couples who are still in the planning stages of their big day, to participate. The day will include the "World's Largest Wedding Reception" in which anyone wishing to join in the celebration should use the hashtags: #NationalWeddingDay, #ShareTheLove, #NationalWeddingCouncil, or #NWD2017 as they share their wedding day experiences and become part of the worldwide, online wedding party.
Share stories of when things went horribly wrong or post pictures of when everything was so wonderfully right and remember to thank the vendors that helped make it happen.
For those with weddings still in the future, don't forget to ask vendors about special National Wedding Day discounts and promotions.
Spencer Potter, the National Wedding Council's Industry Expert offers this counsel to those engaged couples, "Our best advice for a perfect wedding is to hire experienced wedding professionals that you find trustworthy. A dream team of professionals who care about the success of your wedding will ensure the best-case scenario…How do you know if a vendor is safe and professional to hire? Ask them if they're Wedding Certified. Only the top 5% of wedding professionals earn our A+ certification after a thorough business evaluation."
More than ever, the world needs a lot more love in it.