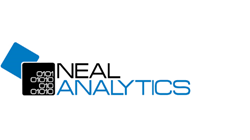 Seattle, WA (PRWEB) June 01, 2017
Neal Analytics today announced it has won the 2017 Microsoft Global Partner of the Year Award in Business Analytics. The company was honored among a global field of top Microsoft partners for demonstrating excellence in innovation and implementation of customer solutions based on Microsoft technology.
"We are honored to be recognized by Microsoft in the mission-critical domain of Business Analytics," said Dylan Dias, CEO, Neal Analytics. "Over the past six years, we have worked closely with Microsoft to create impactful business and technology outcomes for our customers. We look forward to continuing our leadership position in the Digital Transformation wave that is sweeping across every industry today."
Awards were presented in several categories, with winners chosen from a set of more than 2,800 entrants from 115 countries worldwide. Neal Analytics was recognized for providing outstanding solutions and services in Business Analytics.
The Business Analytics – Partner of the Year Award recognizes a partner who has delivered an outstanding solution leveraging Microsoft's Advanced Analytics, Big Data, and Business Intelligence capabilities. Neal Analytics' winning solution SKU Max Inventory Optimization empowers customers to more actively manage their product offerings, identifying the best products for each shelf to maximize sales/inventory turns. This helps Neal & Microsoft's customers make better, faster strategic business decisions that lead to increased margin in the Consumer Goods, Retail, Manufacturing, Distribution, and MRO industries. The solution enables key personas (e.g. Merchandising Managers, Category Managers, Buyers, Inventory Planners, Production Planners) to achieve success in their day-to-day activities with a robust analytical tool that supplements their experience and instinct. The tool was developed using leading data and analytics capabilities on the Microsoft Azure Cloud that are part of the Cortana Intelligence Suite. Technologies used include Azure Data Factory (for data management), HDInsight, SQL Data Warehouse, Azure Data Lake (for big data), Machine Learning (for machine learning), and Power BI (for visualization).
"Our ecosystem of innovative partners is the cornerstone to delivering transformative solutions to our mutual customers," said Ron Huddleston corporate vice president, One Commercial Partner, Microsoft Corp. "We are pleased to recognize Neal Analytics for being selected as Winner of the 2017 Microsoft Global Partner of the Year – Business Analytics award."
The Microsoft Partner of the Year Awards recognize Microsoft partners that have developed and delivered exceptional Microsoft-based solutions during the past year.
About Neal Analytics
Neal Analytics helps companies turn data into a valuable asset and a competitive advantage.
From data warehouses and dashboards to Big Data and Advanced Analytics, Neal Analytics has the skills and experience to deliver extremely profitable results for their clients. As the premier Advanced Analytics partner to Microsoft, Neal Analytics helps businesses overcome obstacles and drive Digital Transformation impact with their data. Neal has unique reach among Fortune-50 clients and the ability to make a difference when solving the toughest business and technology problems.
Neal Analytics' expert consultants bring a host of Data Science, Business Intelligence, Cognitive Services, practical AI, Data Management, and IOT skillsets to bear to solve unique business problems for their clients. Neal's machine learning and data engineering expertise enables engagement with real-time sensor data, historical structured and unstructured data, ERP data, and any other firm data to drive margin increases and profitable analytics projects.
About SKU Max
Neal Analytics SKU Max Inventory Management solution helps customers increase margin and top-line sales across a portfolio of products by pulling ERP data, performing machine learning, and sharing a series of insightful dashboards. These dashboards are broadly distributed to both corporate planners / buyers and field personnel who use these dashboards to make store-specific assortment, warehouse stocking, channel, and product decisions that result in increased margin and revenue based on Neal's proprietary algorithms.
For additional information:
David Brown
davidb(at)nealanalytics(dot)com
425-283-6842
Shelly Kamran
shelly(at)nealanalytics(dot)com
206-286-9200
For more info on SKU Max Inventory Management Solution
Product or service names mentioned herein may be the trademarks of their respective owners.