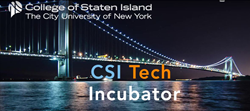 "The Incubator's direct connection to the world-class programming provided by CSI is exactly the kind of innovative solution our borough needs… to succeed in today's competitive tech marketplace." -Linda M. Baran, president, CEO, SINY Chamber of Commerce
Staten Island, NY (PRWEB) March 25, 2017
The North Shore of Staten Island is becoming a burgeoning center of technology innovation in New York City, led by the efforts of the CUNY College of Staten Island (CSI) Technology Incubator, and its first round of tech-based entrepreneurs from across the region and around the globe.
Ranging from 3D simulations that drive new ways of seeing design and construction project progress to data-driven apps to improve the tourist experience through environmental interactions and local retail opportunities, the CSI Tech Incubator is also home to a new Artificial Intelligence and facial recognition startup that may enhance operations in New York City public schools and schools across the country.
In addition to the global-record-shattering New York Wheel, the City's only premium shopping experience at Empire Outlets, the platinum-class Lighthouse Point multi-experience complex, and Ironstate's barrier-breaking URBY residential village with its own farm-to-table experience, the CSI Tech Incubator is a part of the foundation and epicenter of the Borough's first innovation district. As this transformative growth continues to unfold on Staten Island's North Shore, the Incubator will be a driver of economic development that will attract more businesses and additional employment opportunities to the borough.
Leveraging the resources of CUNY (The City University of New York), including its world-renowned faculty and the regional-powerhouse CUNY High-Performance Computing Center with the advanced capabilities of Geographic Information System (GIS), the co-working space of the Incubator is a dynamic experience for startups that integrates with the technology ecosystem of New York City and the exponential growth on the North Shore of Staten Island.
"The Chamber is pleased to see three innovative start-up companies selected as the CSI Tech Incubator's first cohort," commented Linda M. Baran, president and CEO of the Staten Island Chamber of Commerce. "The Incubator's direct connection to the world-class programming provided by CSI is exactly the kind of innovative solution our borough needs to foster a dynamic tech community. With this connection, the Incubator will no doubt provide the resources, guidance, and mentorship these businesses will need to succeed in today's competitive tech marketplace."
This timing is right for a technology revolution in New York City. The economy is transforming rapidly because of technological innovation, and technology is one of the City's priority sectors for workforce development. The Internet, mobile technologies, social media, and big data have fostered the creation of thousands of new startup companies across the City, and these new tech startups are reordering the City's economy and workforce. The CSI Tech Incubator is poised to have Staten Island lay claim to the economic development of the technology sector, deepening the borough's integration with the fabric of the City's technology ecosystem.
As of March 27, 2017, local and international tech entrepreneurs determined to make the leap from a startup to something much bigger will have a place to call home. These startups may be uniquely poised to find a permanent home on Staten Island's North Shore, in light of its many developments.
Through a competitive application process, the selected startups were chosen for their tremendous potential:
Vectuel: founded in France in 2007, Vectuel develops 3D simulations that enhance capital improvement projects in the design, construction and marketing phases by making them understandable to the widest audience possible. The company designs highly innovative interactive 3D applications for real estate and urban development, combining enhanced maps, 3D models and virtual reality media, to create three-dimensional 360-degree experiences of future developments and help project leaders tell their story in a visual way.
Walk & Explore: utilizes data analytics to personalize and enhance interactions between users and the environment. Users of the new software product can chose among more businesses and municipal services compiled through the interface to increase choice for consumers. The technology can even improve the sightseeing and travel experience for tourists and further boost local sales.
Mtech: employs Artificial Intelligence and facial recognition software for educational purposes, automating administrative tasks in a school setting through an online venue. Through technology, Mtech can provide educators with the ability to know where students are at all times and maintain a safe environment by, for example, alerting school officials of any unauthorized entry to facilities. The founder of Mtech is a College of Staten Island student.
Visit http://www.csitechincubator.com for details.
About the College of Staten Island
The College of Staten Island is a senior college of The City University of New York (CUNY) offering Doctoral programs, Advanced Certificate programs, and Master's programs, as well as Bachelor's and Associate's degrees.
CSI is ranked 3rd in New York State by MONEY magazine for Best Colleges and 6th in the Nation on CollegeNet's Social Mobility Index. CSI is also a "Top Master's University," as ranked by Washington Monthly, in the Top 15% for Alumni Salary Potential according to Payscale, and has been named a Military Friendly School for seven consecutive years by GI Jobs magazine.
The CUNY Interdisciplinary High-Performance Computing Center, one of the most powerful supercomputers in the New York City region, handles big-data analysis for faculty researchers and their student research teams, as well as researchers nationwide.
The 204-acre landscaped campus of CSI, the largest in NYC, is fully accessible and contains an advanced, networked infrastructure to support technology-based teaching, learning, and research. Dolphin Cove Resident Halls, the college's new apartment-style luxury suites, celebrates its third year at full occupancy housing students from across NYC, the United States, and the world.