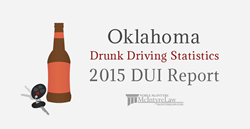 Oklahoma DUI fatality statistics show that it continues to be a problem, both locally and nationwide.
Oklahoma City, OK (PRWEB) March 01, 2017
Driving Under the Influence, or DUI, continues to be a problem in Oklahoma, and nationwide. In 2015, 188 people died on Oklahoma roads in alcohol-related accidents, which is up nine percent from 172 in the previous year.
For nearly a decade, McIntyre Law has analyzed data collected by the National Highway Traffic Safety Administration (NHTSA), Oklahoma Highway Safety Office (OHSO), the Fatality Analysis Reporting System (FARS) and the U.S. Census to determine trends with respect to alcohol-related accidents.
Who is responsible for DUI fatalities and crashes? According to the research, males are behind the wheel during a DUI crash almost three-quarters of the time. They also are fatality victims far more often than females, with fatalities for male drivers in DUI crashes at 82 percent.
Which Oklahoma counties have the highest incidences of DUI? Tulsa and Oklahoma counties have the greatest number of DUI fatalities in recent years, likely because those counties are most densely populated. Tulsa County totals 213 DUI fatalities from 2007-2015, which Oklahoma County close on its heels with 209 in that time period. During those years, Harmon, Woods, Tillman, Cimarron and Harper counties had the fewest DUI fatalities. Harmon has seen no fatalities in 2007-2015, and the other listed counties each had three.
However, if we look at the number of fatalities in proportion to the population, Roger Mills, Pushmataha, Greer and Beaver counties had the highest, with nearly two DUI fatalities for every 1,000 people in 2007-2015. The fewest fatalities by this measure were in Harmon, Cleveland, Jackson and Oklahoma counties.
For more information on Oklahoma DUI statistics, please see the entire McIntyre Law 2015 DUI report. As well, visit our Community Resources page for more on distracted driving, teen driving, drowsy driving, motorcycle accident resources and helmet laws, what to do if you've been a victim of a dog bite attack, and oil field accidents and injuries. We can also be reached at (877) 917-5250 or http://www.oklahoma-law.com/.