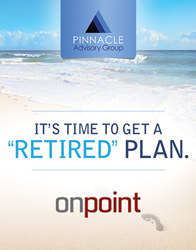 Columbia, MD (PRWEB) September 07, 2017
Pinnacle Advisory Group announces today the launch of their onpoint planning process to combat the popular notion that simply reaching retirement is the ultimate financial goal. Pinnacle's proactive approach takes retirement a step further by turning saved assets into usable funds. Comprised of three prongs, the onpoint process helps retirees protect cash-flow, manage market volatility and minimize tax liability.
While the majority of retirees are led to believe that asset accumulation is the final benchmark, Pinnacle encourages a different way of thinking. "Retirement is an artificial finish line," said Michael Kitces, CFP, MSFS, MTAX, Pinnacle partner and Director of Wealth Management. "A lot of people get to retirement and panic because they don't know how to use their investment vehicles to sustain their lifestyle once they lose the paycheck they've depended on for decades. It's a 'now what?' moment, and we launched onpoint to help our clients turn their savings into sustainable spending money while avoiding tax pitfalls."
Through active strategies that account for the changing tides of the market and the stages of retirement, the Pinnacle onpoint process ensures retirees:

Won't outlive assets in retirement by spending too much
Won't spend too little and not fully enjoy the benefits of a lifetime of saving
Will turn investable assets into retirement cash flow
"Most wealth managers are focused on getting their clients to retirement, and aren't paying attention to what happens once they get there. Through onpoint, we are seeking to provide high-quality sustainability throughout retirement so our clients can live their retired lives to the fullest," said Kelly Wright, CFP, Director of Financial Planning.
To learn more about onpoint, visit http://pinnacleonpoint.com.
About Pinnacle Advisory Group
Pinnacle Advisory Group is a private wealth management firm, founded in 1993 and headquartered in Columbia, Maryland, with offices in Miami and Naples, Florida. We work with more than 1250 families and manage $1.8 billion in assets for clients both in the mid-Atlantic region, and around the world. Learn more at http://www.pinnacleadvisory.com.