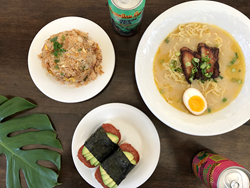 Laguna Niguel, CA (PRWEB) April 04, 2017
Laguna Design Center proudly welcomes Plumeria Cafe, by Stacks. With an abundance of neighborhood charm, Plumeria Cafe offers delectable upscale pairings to guests and soon-to-be regulars in Laguna Niguel.
Fresh California and Hawaiian-inspired cuisine, accompanied by a handful of specially selected wines, has already got Laguna Design Center area locals lining up. And soon they'll be watching the clock for Plumeria Cafe "Shaka" and "Ohana" social hours too!
Menu items include roasted chicken salad with "perfect" Asian sesame dressing, fresh made ceviche, lettuce wraps, Kabli ribletts, a Hawaiian roasted chicken ramen, specialty pastas, home-made soups, sandwiches and island chilaquiles.
Parent company, Stacks, has already made a name for itself in the SoCal foodie scene and credits its melting pot of influence for much of its success. Owners Nixon and Ovita Tanuwidjaja, are the creative geniuses behind Stacks Pancake Houses in Dana Point, Mission Viejo and Irvine, as well as Scrambler Cafe. The pair sees Plumeria Cafe as a natural evolution to their restaurant group.
Stacks fans rejoice! The Plumeria Cafe menu includes fan favorites like Captain Mac Nut French Toast, authentic Hawaiian Loco Moco and their ever-popular Banana & Nutella Crepes.
Plumeria Cafe is open from 7:00 am to 3:00 pm daily and located at the Blue Flag Entrance of Laguna Design Center, 23811 Aliso Creek Road, Laguna Niguel, CA 92677; (949) 900-6829.