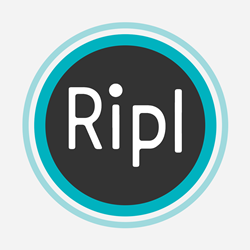 U.S. small businesses now rank social media higher in importance than any of their other marketing communications channels.
Bellevue, Washington (PRWEB) June 28, 2017
Ripl, Inc., one of the leading providers of small business mobile marketing software, announced today the release of the white paper Report and infographic summarizing the findings of their recent Q2 2017 Small Business Social Media Marketing Research Survey. The research findings highlight how prominently sole proprietors and "micro-businesses" in the United States are using social media platforms as their primary marketing communications channel.
The Small Business Social Media Research Survey was conducted by Ripl from among its U.S. and global base of free and paying users in May 2017 and received more than 850 responses. Among these responses, more than 350 were from U.S.-based businesses with less than 10 employees and this sample provided the research on which the recent white paper Report is based. The study included responses from an array of small businesses, including Local and Retail Businesses, Professional Services, Online Businesses, and Non-Profits, among others.
The Report indicates that U.S. small businesses now rank their self-published posts to social media higher emails, digital and real-world advertising, and even their own websites in importance for both attracting new customers and engaging their existing customers.
The Ripl research study found that U.S. small businesses are frugal with their marketing investments, with the majority of them spending $100 or less per month on marketing software tools and online advertising. More than half of the businesses surveyed indicated that they spend nothing on mailings, coupons, print and other local advertising. Asked about the primary strategic goal of their marketing efforts, U.S, small businesses ranked building new customer awareness first (39%) with driving customer traffic to their website or store ranked second (32%). Only 18% of respondents answered that staying top-of-mind with existing customers was their top marketing priority.
Ripl's COO, Clay McDaniel, said about the findings in the Q2 2017 Small Business Social Media Marketing Research Survey Report, "We were frankly surprised by how high social media network publishing and digital advertising ranked in comparison to websites, email and other forms of non-digital advertising for acquiring new customers." McDaniel added, "These results show how focused small businesses have become on managing their own marketing activities and being able to evaluate results themselves."
McDaniel stated that Ripl conducts online small business social media marketing research studies with its user base quarterly, and summarizes a sub-set of the general findings to share with the broader marketplace. A link to the Report white paper and a summary infographic of key findings is available at this Ripl blog post.
*****
About Ripl:
Ripl, Inc., is a privately-held mobile software technology company based in Bellevue, Washington. The company provides marketing software and premium subscription services to small businesses globally via its "Ripl"-branded iOS and Android mobile applications. The company is lead by Founder and CEO Paul Ingalls. For more information about Ripl, its apps and the Ripl Pro premium subscription service, please visit: http://www.Ripl.com or the Ripl Facebook Page.