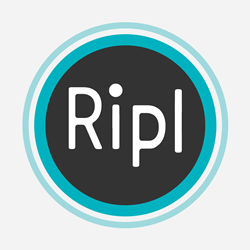 Ripl builds leadership in small business marketing tools with release of Android app.
BELLEVUE, WA (PRWEB) January 25, 2017
Ripl, Inc., an early leader in small business mobile marketing software, announced today the official release of its Ripl app for Android devices worldwide. The company indicated that this was another major step toward its goal of providing simple, low-cost mobile marketing tools to growing small businesses around the world.
Ripl released one of the first mobile software applications that enables instant creation and publishing of customized animated videos for social media. Since launching the Ripl iOS app in October 2015, the company has established an early lead in the emerging market for mobile digital content creation tools focused on the needs of "micro-businesses." In its first year, Ripl acquired hundreds of thousands of active users who generated more than 1.5 million animated social media posts.
Ripl's founder and CEO, Paul Ingalls, said, "Personalized video content is how small business owners create their brand and tell their unique story in the social media age. We're excited that we can now offer the simple strength of the Ripl app to Android users worldwide." Ingalls added, "We intentionally waited to release the Android app until we felt that we had refined the experience to meet the high standards set by our iOS app. Our open beta program was critical to this and we are so thankful for the thousands of Android users who participated and sent feedback."
The official release of the Ripl app and Ripl Pro premium service for global Android device users is expected to accelerate the company's growth in 2017. Ripl's COO, Clay McDaniel, said, "Since Android devices are being used by the majority of small business owner-operators around the world, we will substantially expand our global marketing and customer acquisition focus in 2017."
Along with official availability of the Ripl Android app, the company also announced that it will surpass one million total installs of its applications in February.
For more information about the Ripl application release for Android, please review the company's announcement-related blog post.
*****
About Ripl:
Ripl, Inc., is a privately-held software technology company based in Bellevue, Washington. The company provides mobile software and premium subscription services to small businesses globally, via its "Ripl"-branded iOS and Android mobile applications. The company was founded by CEO Paul Ingalls. For more information, please visit: http://www.Ripl.com