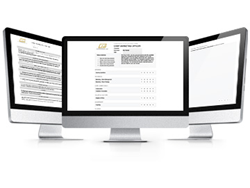 RIVS has helped thousands of organizations modernize their screening and selection processes
Chicago, IL (PRWEB) October 11, 2017
RIVS, the leading provider of interview technology, today announced the acquisition of HireBar.
HireBar helps talent acquisition leaders drive consistency and compliance in interviews conducted by their broader teams, through dynamically-built interview guides designed to focus on each organization's unique values and core competencies. With access to HireBar's interview guide builder, online feedback forms and video-based interview training, organizations can scale their in-person interview process responsibly, supported by the consistent use of appropriate research-based interview questions.
"RIVS has helped thousands of organizations modernize their screening and selection processes – often using video interviews," said Phil Leslie, CEO of RIVS. "Our more recent introduction of interview scheduling tools led us to ask our clients how we could better support their in-person interviews. The easy creation of interview guides through HireBar, quickly became an obvious next step."
RIVS previously acquired interview technology firms InterviewStream and Async Interview. "I'm thrilled to see HireBar become part of the highly impactful RIVS suite," said James Colino, Founder & CEO of HireBar. "With their experience and leadership in the interviewing space, and their record of successfully acquiring related solutions, I can't think of anyone who is better positioned to service our existing customers and build upon the HireBar vision."
The acquisition of HireBar allows RIVS to further expand on their interview technology platform servicing over 1,000 organizations worldwide. For more information regarding the HireBar acquisition and offering from RIVS, please visit: http://www.rivs.com/interview-guide-builder
---
About RIVS Digital Interviews
RIVS interview technologies empower recruiters and hiring managers to effectively screen and select applicants to advance in their hiring process. Video, voice, and written interviews reveal key candidate communication and personality skills earlier on in the selection process, scheduling tools improve the logistics of arranging interviews, and the interview guide builder prepares internal stakeholders for an effective in-person interview. RIVS helps organizations discover top talent while reducing time to hire and costs associated with interviewing. For more information, visit rivs.com or follow us on LinkedIn.