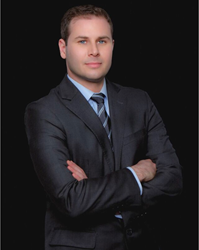 Los Angeles, California (PRWEB) July 10, 2017
Haute Beauty welcomes Dr. Jaime Schwartz, renowned, board-certified breast surgeon and educator, to its invite-only network of beauty and wellness experts.
Dr. Jaime S. Schwartz MD, FACS, is not only a dedicated surgeon to his patients. He is also an experienced educator to his colleagues – a professional trait that evinces his revered expertise in the most complex of breast procedures.
Many are the achievements and accolades that attest to Dr. Schwartz' mastery of breast surgery. He has received the highest-level Physician Excellence Award. He has built a plastic surgery department from scratch in a large hospital system in Southern California. He has established the U.S. National Guidelines for breast surgeries. And yet, the most significant acclaim stems from Dr. Schwartz's patients, whom he treats with compassion and attention. His tender and comforting "bedside manner" has earned him the "Caring-Star Award" at Georgetown University Hospital.
As an ever growing number of patients sought his expertise in breast augmentation, Dr. Schwartz founded The Beverly Hills Breast Institute. Today, the practice provides the highest quality and most comprehensive breast surgery care to women, men and transgender patients, alike. Determined to offer the safest, most progressive procedures to his clients, Dr. Schwartz has pioneered several trailblazing techniques – such as the AutoDerm and the LipoLiftTM. The former spares the muscles, shortens recovery time and reconstructs cancer patients' breasts with minimal hidden scars. The latter reduces pain to such a great extent that it can be performed awake. Spotlighted on the Doctors TV show, LipoLiftTM has been the subject of many lectures Dr. Schwartz has given throughout the U.S. and Asia.
Apt at correcting extremely bad breast surgery, Dr. Schwartz has appeared on the popular TV series BOTCHED. Committed to educating both patients and professionals, he has penned a bevy of journal papers and textbooks, and is an Aesthetic Editor at the Plastic Surgery Education Network. Many patients and other physicians seek out Dr Schwartz's expertise for complex breast surgeries.
About Dr. Schwartz:
Board certified plastic surgeon, Dr. Schwartz has nourished a stellar career in an increasingly advanced field. He earned his bachelor degree in cellular and molecular biology from Tulane University. Then, he obtained a medical degree from Georgetown University School of Medicine, scoring in the top 3% on the medical boards. In the following six years, Dr. Schwartz completed a plastic and reconstructive residency at Georgetown University Hospital – one of the most coveted training programs in the U.S.
After Georgetown came the renowned Cleveland Clinic, where Dr. Schwartz served as an adjunct clinical professor. Here, he worked in an environment of innovation, among the surgeons who performed the first face transplant in the country. Not long after, Dr. Schwartz's talent and knowledge landed him at the helm of the industry. He became Chief of Plastic Surgery at a large hospital system in Southern California, where he established a plastic surgery department and a breast reconstructive surgery center. His lead ushered in the first nipple-sparing mastectomy registry and numerous research projects that resulted in national accreditation and recognition for the hospital.
About Haute Beauty:
Haute Beauty is affiliated with luxury lifestyle publication Haute Living. A subsidiary of Haute Living magazine, Haute Beauty covers the latest advancements in beauty and wellness and provides readers with expert advice in the most innovative aesthetic and reconstructive treatments through its network of acclaimed surgeons.