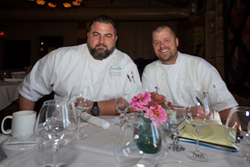 Seafood and Ciders
Purcellville, Virginia (PRWEB) October 19, 2017
Taste of Blue Ridge is pleased to announce the second event in the Blue Ridge Root to Table culinary series. Enjoy informal conversations at a beautiful historic mill , Magnolias at the Mill, an American premier restaurant. This Friday night event also offers a two night lodging option available from Hillbrook Inn and Spa just thirty minutes away in Charles Town, West Virginia. Enjoy the serene European influence of this West Virginia property just 30 minutes from Magnolia's at the Mill. Transportation will be provided from Hillbrook to the Friday night Root to Table event.
The event starts at 7 pm and will include a 5-course dinner paired with popular ciders. Throx Market's Jeremy Throckmorton will be at the event to discuss the world of ciders both here in Virginia and internationally. Tickets can be purchased online at https://blueridgeroottotablenovember2017culinaryevent.eventbrite.com.
"Root to Table" Dinner Menu
Chef Erik and Chef Steve are showcasing the following courses.
Greeter - Poire brut - chef sucked cocktail OYSTERS, New Brunswick

First Course: Ceviche Forte - Scallop, Pulpo, Skrei, Cuttle Fish - Spiced Saarte Cider
Second Course: Short Smoked Black Cod, Charred Radicchio Antipasti, Boucheron Anchovy- Black Currant Cider
Third Course: Hand shucked Scallop, Linguica, Charred Octopus, Langoustine, Belly Clam, Spiced Kabocha Broth - Mulled Brandy Cider
Entrée: Speck Rested Wolf Turbot, Merguez, Chili Flake, Charred Red Apple & Shallot - Corcorran Knothead Cider
Dessert: Sour Apple Pate a Fruit, Pumpkin Pot au Creme, Spiced Buckwheat Crepe Cake.
There is a lot that makes this culinary event special:

Executive chefs sharing the same kitchen
Competitive business owners sharing conversation over food
Food lovers have a one to one foodie conversation with the best chefs in the region about taking food products grown locally
Traditional and new cuisine recipes using food from our backyards.
What is behind competitive chefs and restaurant owners getting together and forming a community to talk about great quality food made from the best products available here in the USA?
Chef Steve Ferrell – Executive Chef at Hillbrook Inn and Spa, Charles Town, West Virginia. Steve has just joined the Red Restaurant at Hillbrook Inn and Spa the first of August.
"I am a hard working individual with a strong sense of pride in food that I create and in the kitchen teams I have developed. I respect classic techniques and fundamentals but believe in always pushing the envelope by challenging myself to improve."
Chef Erik Foxx – Nettnin – Executive Chef at Magnolias at the Mill, Purcellville, Virginia
"The idea of cooking with and for new people is exciting. I very much look forward to weaving more threads into the fabric of our culinary partnership. Both by introducing chefs to local producers, and enjoying our love of cooking for people together."
"Hillbrook Inn is involved with Taste of Blue Ridge because we are devoted to promoting a quality food product. By combining our efforts for promoting local resourcing with other chefs and farmers in the area, we can have a larger national voice for the northern Virginia – West Virginia region," said Carissa Zanella, owner of HIllbrook Inn and Spa.
Taste of Blue Ridge is a marketing partnership representing people passionate about food here in the Shenandoah Valley and Blue Ridge Mountains of Virginia and West Virginia. Taste's mission is to connect consumers to owners, chefs, farmers, and food retailers who live and breathe providing the best quality food product possible using the resources available. The goal is to educate the visitor on how to take farm market and backyard garden food products and turn them into award winning dishes and cocktails.
"Despite our hectic busy lifestyles, people today are even more passionate about food - what we eat, where and how it was grown and prepared are all part of our area's food and drink culture," said Craun.
Put two talented chefs together and you are going to experience an exciting evening of food and beverage!
Awarded a Virginia Tourism grant, Taste of Blue Ridge will be hosting a series of culinary events that celebrate the collaboration between our partners. The program highlights unique food happenings that will turn dining into story telling. Experiences with an emphasis on our passionate partners and a weekend escape itinerary based programs.
About TasteofBlueRidge.com
Launched in April 2016, Taste of Blue Ridge, is a website promotion foodie experiences. With a mission to bring the best quality food to the valley supporting local farms in the United States. Taste of Blue Ridge with its marketing community partners are the recipient of a $25,000 tourism marketing leveraging grant – Blue Ridge Root to Table.
Contact: Nancy Craun Founder and Owner
Phone: 540.533.1853
Email: nancy(at)goblueridgetravel(dot)com