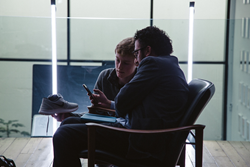 San Francisco, CA (PRWEB) April 07, 2017
Acclaimed film director, Andrew Wonder, in partnership with AngelHack, the world's largest and most diverse hacker community, premiered the feature startup documentary, Seed, in Austin, TX on March 11. Golden Globe winning actress Gina Rodriguez hosted the film premiere at the Violet Crown theater to a packed house - guests' included Dhani Jones, the event's Q&A moderator, former NFL athlete, and current host of CNBC's, Adventure Capitalists, Kara Swisher, prolific technology journalist and co-founder and Executive Editor of Recode, and many more.
The feature length documentary film, which follows three early-stage startups' looking to break into Silicon Valley, has been picked up by Amazon Prime Video and Amazon.com for a global launch, with a world streaming premiere set for April 7th, 2017 at: https://www.amazon.com/dp/B06Y19FVK6/ref=cm_sw_r_cp_ep_dp_bfQ5yb8M6P4ZS.
"Silicon Valley is a world where you only hear about big successes and IPOs, but never about the people who are fighting everyday to make their dreams a reality. I hope Seed can be an anthem for anyone who has gone down this path, successful or not, and show an honest look at what it takes to turn that app idea you had at dinner into a business that works," said Wonder.
Sabeen Ali, the founder and CEO of AngelHack added, "Filming the entire entrepreneur journey from hackathon, to HACKcelerator, to our Annual Global Demo Day has been a long time dream of mine. Being an entrepreneur isn't always easy, and the stories of each person who comes into our program is unique, special, and captivating in their own way. I'm happy Seed captures everything from the struggle to excitement throughout this process, and am humbled to know that proceeds from Seed will go towards graduating HACKcelerator companies of 2017."
Seed follows three startups' from around the world as they descend on San Francisco for AngelHack's Silicon Valley Week. Ethan, Devin, and Pulkit are high school kids from Palo Alto who think they've got a new breakthrough technology, and Shaher drives an Uber in New York to fund his company back home in Palestine, where his partner Ahmed keeps the coding going while supporting his family. Bettirose and team Report Taka traveled all the way from Nairobi, Kenya with an app they hope can save lives back home. Dreams will become uncertain and partnerships will be tested.
The film was directed by Andrew Wonder and produced in partnership with AngelHack, the world's largest and most diverse hacker community. Wonder began his career as a 17-year-old field producer for MTV and worked on the Emmy Award winning series Made. He has been on many unlikely adventures, including living with mole people, teaching high school, raiding drug cartels with the DEA, and capturing the last days of NASA's space shuttles in 3D. Technology has always been an integral part of Wonder's storytelling, which has led him to design new VR solutions, and create his own unique style of working with digital cameras. For Seed, Wonder used many rare film lenses from the 1930s to capture a unique cinematic feel. Wonder's latest work was the viral hit, GE's "Juice Train" which was featured by American Cinematographer for its innovative way of capturing a 48 hour anamorphic time lapse on the front of a locomotive. The film was funded with financial support from Hewlett Packard Enterprise (HPE).
For more information on Seed or AngelHack, contact Kelsey at (415) 754-0261 or email her at: kelsey(at)angelhack(dot)com.
About AngelHack
AngelHack, a female-owned, female-majority company is the world's largest and most diverse developer ecosystem, helping to drive open innovation of tech products, platforms and brands with extraordinary smarts, scale and speed. Known as pioneers of global hackathons for more than five years, AngelHack's 100,000+ developers, designers, and entrepreneurs around the world compete to build, test and launch new solutions over the course of a weekend. The HACKcelerator program and other education initiatives connect ambitious developers with thought leaders and experienced entrepreneurs to help them become more versatile, entrepreneurial and successful as change-makers. Find out more at http://www.angelhack.com.