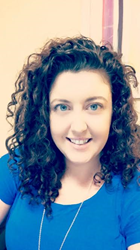 Vector Marketing is a place where young professionals have a chance to learn and grow. Even more so, it is a supportive and encouraging environment where they can push themselves beyond expectation."
Kalamazoo, MI (PRWEB) June 07, 2017
Vector Marketing, the sales and marketing arm of Cutco Cutlery, has named Kalamazoo, Michigan resident Beth Shishmanian its U.S. Application Manager. In her new position, she will oversee the Vector's newly created Application Center in Kalamazoo, Michigan.
The Application Center coordinates website responses, interview schedules and interviews for Vector's summer student work program. Each year, Vector Marketing contracts with tens of thousands of college students as sales representatives to sell the world's finest cutlery. These Vector student sales reps are responsible for millions of dollars of Cutco sales annually.
With the new Application Center, the company's intention is "to provide a streamlined application experience" to the thousands of college students who apply with Vector, said recruiting operations manager Jacob Coon. Shishmanian will be a key part of those efforts, he said.
"Beth is a fully committed and talented manager, bringing 15 years of service to the new position. She has developed numerous top performers, many with proven long-term track records," he said. "I personally look forward the energy, enthusiasm and dedication Beth will offer to Vector and Cutco's future."
Shishmanian joined Vector Marketing in 2002, working for the company as a receptionist in Baltimore, Maryland, while pursuing her degree from the Community College of Baltimore County. In her 15 years with Vector Marketing, she has received numerous promotions, working as an office manager, division event coordinator and division recruiting manager.
She says she is excited to use modern technology such as text messaging to make the application process streamlined and easy for students who are looking for work or career opportunities with Vector Marketing.
"I never expected the entry-level receptionist position I began in Baltimore as an 18-year-old high school graduate would lead me here today," Shishmanian said. "Vector Marketing is a place where young professionals have a chance to learn and grow. Even more so, it is a supportive and encouraging environment where they can push themselves beyond expectation."
About Vector Marketing:
Vector Marketing is the marketing and sales arm of Cutco Cutlery, a 65-year-old company with headquarters and manufacturing facilities in Olean, New York. Vector sells Cutco products through a national team of sales representatives primarily consisting of motivated college students who are trained to do in-home and virtual demonstrations on a pre-set basis. Vector Marketing has over 200 locations nationwide and works with students of all majors with any levels of professional experience.