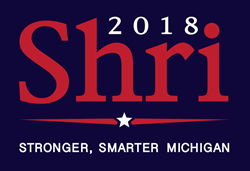 Ann Arbor, MI (PRWEB) July 26, 2017
The first campaign finance reports in Michigan's race for governor are in, and entrepreneur and scientist Shri Thanedar is leading the Democratic field by a wide margin.
Thanedar has $3 million cash on hand in his campaign account, far ahead of Gretchen Whitmer, the next closest at $1.14 million. Abdul El-Sayed is in third place at $644,324.
"Michigan needs a truly progressive candidate who has a record of building success from the ground up," Thanedar said. "I believe that so strongly that I'm willing to dedicate a significant amount of resources to getting our message out to the people."
Thanedar rose from a low-income family in southern India to become a successful American entrepreneur and citizen, while overcoming many personal and professional hurdles.
Like so many Michiganders, Thanedar took a hard punch from the great recession. Like many Michigan businesses, his suffered a severe downturn. His business was taken by the bank and, like many Michigan homes, his dream home was foreclosed. In the end, every cent was paid back to the bank, but he had to start over. Through a combination of grit, hard work and unwavering optimism in the face of tremendous adversity, Thanedar built up a new business. He sold this latest company, Avomeen, in December, and shared $1.5 million of the sale price with his employees.
Thanedar will take that same grit to the governor's office to deliver common-sense, progressive solutions to Michigan's toughest problems: not enough good paying jobs, stagnant wages, crumbling infrastructure and skyrocketing college tuition and health care costs.
"All Michiganders deserve an equal shot at success, but for far too long Lansing politicians have favored the wealthy over the middle class," Thanedar said. "I do not come from privilege. I'm the only candidate in this race who knows what it's like to be hungry. I'm the only one who has created jobs. I know what role our government can serve in helping people and small businesses get on a path to financial stability. I'm going to make Michigan's government work for everyone again – not just the people at the top.
"That's why I have named our campaign 'Shri for We.' I will change the status quo in Lansing and put 'we, the people' back in charge of our government."
Thanedar does not intend to self-fund his entire campaign, but investing some of his own resources early on allows him to travel around the state and engage with voters instead of spending most of his time "dialing for dollars" like other candidates.
It also means he is not beholden to any corporate interests, and Thanedar said he will not seek or accept corporate donations for his campaign.
"I have the most progressive platform of any Democratic candidate for governor," Thanedar said. "It was not influenced by corporate or special interests. My ideas are from the heart -- they are what I believe will create an economy that works for us all."
For more information, visit http://www.Shri2018.com.