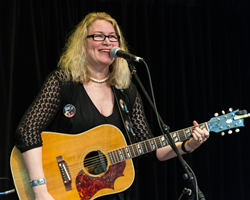 This is an important time to talk about gender equality and empowerment. A chorus of women of all gender, ages and races can deliver a song with a powerful message.
Boston, MA (PRWEB) January 19, 2017
Twenty six New England women still believe in the power of song, and they are using it to advance gender equality. Susan Cattaneo and The Lucy Stone Singers – named after the first woman to ever graduate from college in the US – are a group of musicians from all different musical genres who came together to record "SISTERS OF A DIFFERENT SKIN", an a cappella song about gender equality. The group is launching the single and video this week in conjunction with the Women's March on Washington, and all proceeds from the effort are going to Girls Who Code, a national non-profit organization dedicated to closing the gender gap in technology.
"Sisters of A Different Skin" is the brainchild of award-winning songwriter and Berklee professor, Susan Cattaneo. She commented: "This song started as an a cappella voice memo in my phone. Many recent events in the news inspired me to write it. It feels like it's an important time to talk about gender equality and empowerment. I had this image of this chorus of women of all ages, races and musical genres singing it. Fortunately, I've worked with many wonderful women in the New England music scene, and they all came together to sing it with me."
The song features powerful female artists who perform on a spectrum of musical styles from hip hop to indie, blues, country, pop, folk, bluegrass, Americana and gospel. They include: Joan Anderman (of Field Day), Julia Battistin, Nancy Beaudette, Ruby Bird (of Bird Mancini), Susan Cattaneo, Angel Chisholm, Belen Cusi, Julie Dougherty, Renee Dupuis, Amy Fairchild, Paula Gallitano, Andrea Gillis, Jenee Halstead, Dom Jones, Dawn Kenney, Renese King, Rachael Leblanc, Alizon Lissance, Jenna Lotti, Erica Mantone, Ellie Marshall, Brittni Noble, Serin Oh, Carla Ryder, Didi Stewart, Allyson Umoru and Laura Vecchione.
The name of the group was chosen to honor the long history of the women rights movement in Massachusetts. Lucy Stone was a prominent American orator, abolitionist, and suffragist, and a vocal advocate and organizer promoting rights for women. In 1847, Stone became the first woman from Massachusetts to earn a college degree.
All proceeds from the sale of the song will go to Girls Who Code, an organization whose mission is to close the gender gap in technology by teaching teenage girls how to code.
"We chose Girls Who Code because it's not politically aligned. Gender equality issues affect women of all political beliefs, and we wanted to support an organization that is taking practical steps to tackle them. Girls Who Code promotes advancement for women by addressing the gender gap in the technology world. Also, a large portion of the girls who participate come from underprivileged areas, so it creates advancement opportunity across all walks of society, " says Cattaneo.