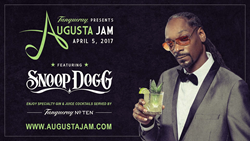 Augusta, GA (PRWEB) March 29, 2017
Legendary hip-hop artist, entertainment icon and Tanqueray Brand Ambassador Snoop Dogg will perform at the Inaugural Augusta Jam presented by Tanqueray No. TEN on Wednesday, April 5th. The event will support the Mayors' Masters Reception, which provides funding for several local Augusta charitable organizations. The City of Augusta recognizes the Mayors' Masters Reception as the official commencement event to welcome patrons to Augusta for one of the most iconic tournament weekends in golf.
The inaugural musical celebration will be held at the Country Club Dance Hall & Saloon, a premiere venue in Augusta, where celebrities, golf enthusiasts and guests will enjoy signature Tanqueray No. TEN Gin & Juice cocktails as Snoop Dogg hits the turntables to spin some his classic anthems for all to enjoy before the historic golf tournament begins.
Tanqueray will feature specialty Gin & Juice cocktails throughout the evening, including Snoop Dogg's signature serve the Tanqueray No. TEN Laid Back and Gin & Georgia inspired by the first major golf tournament of the year. Great moments deserve great spirits and Tanqueray is honored to raise a signature Gin & Georgia cocktail to all the athletes playing in this year's tournament. Recipe is below.
Tanqueray Gin & Georgia

1.25 oz Tanqueray No. TEN
Fever-Tree Mediterranean Tonic Express Grapefruit twist
Preparation: Fill a highball glass with ice. Pour Tanqueray No. TEN over the ice and add a small bottle of Fever-Tree Mediterranean Tonic Express Grapefruit twist water.
Glassware: Highball
Garnish: Half a slice of grapefruit and sprig of thyme
Tanqueray reminds you that whenever you sip Gin & Juice, Tanqueray is the gin of choice – and to do so responsibly by drinking in moderation and securing a designated driver. For updated information on Augusta Jam, please visit the official website or follow the conversation on social: Facebook, Twitter & Instagram | @TheAugustaJam | @tanquerayusa #TanqLaidBack | @snoopdogg #GinandGeorgia
**FOR MEDIA INQUIRIES**
Please contact Allie Bostwick, Hunter PR | abostwick(at)hunterpr(dot)com
ABOUT AUGUSTA JAM
Augusta Jam is a celebratory musical event produced by PGD Global and held in the city of Augusta Georgia during the popular Masters Golf Tournament in support of the local Augusta community and their charitable initiatives. Augusta Jam merges the musical world of country and hip hop music, proudly driven to unite cultures and celebrate diversity through music and golf. For more information and social media links, please visit http://www.AugustaJam.com and Facebook, Twitter & Instagram | @TheAugustaJam
ABOUT PGD GLOBAL
Play Golf Designs, Inc. (PGD Global) is a golf marketing & event company, directing and participating in luxury events for some of the world's most legendary athletes, entertainers, charitable organizations and Fortune 500 companies including NBA Coach Mike Woodson, NBA Icon Julius "Dr.J" Erving, R&B Legend Jeffrey Osborne, Comedian Chris Tucker, Sports Personality Ahmad Rashad, Viacom, The Broadcasters Foundation of America and MGM Resorts International. PGD fuses pop culture and entertainment to create the most unique, innovative golf experiences. PGD Global focuses on celebrating diversity, inclusion for women and introducing the golf world to the latest social and fashion trends. For more information, please visit http://www.pgdglobal.com Tweet or Instagram @PGDGlobal or Facebook http://www.facebook.com/PlayGolfDesigns
ABOUT TANQUERAY
TANQUERAY London Dry Gin is a dry, crisp, gin with a rich juniper flavor. Known for its iconic green bottle and red emblem, TANQUERAY London Dry Gin is the number one imported gin in the United States and is one of the world's most award-winning gins. TANQUERAY gin, TANQUERAY No. TEN gin, TANQUERAY RANGPUR gin and TANQUERAY STERLING vodka together create the renowned portfolio of TANQUERAY. Additional information about the TANQUERAY brand may be found at http://www.tanqueray.com.
Enjoy the finest spirit responsibly. TANQUERAY Gin. 100% Grain Neutral Spirits. 47.3% Alc/Vol. Imported by Charles Tanqueray & Co., Norwalk, CT.
ABOUT SNOOP DOGG
Snoop Dogg has sold more than 35 million albums worldwide, and has reigned for more than two decades as an unparalleled musical force who has raised the bar as an entertainer and globally recognized innovator. Since 1993, he has released fourteen albums and collaborated with artists across all genres of music. Snoop defines hip-hop history. He's set records with his seminal album Doggystyle, which debuted at #1 on the Billboard 200 chart and sold over 800,000 copies in the first week. Throughout his career, Snoop's produced chart-topping hits including "Gin & Juice," "Who Am I? (What's My Name?)," "Nuthin' But A 'G' Thang," "Next Episode," "Beautiful," "Drop It Like It's Hot," "Signs," "Sensual Seduction" and "I Wanna Rock." As a trendsetter of pop culture, Snoop's ventures include: multiple music/film/TV deals and his WestFestTV YouTube channel, where his wildly popular GGN News series appears weekly. Snoop recently released his 14th studio album, COOLAID.
ABOUT CITY OF AUGUSTA, GEORGIA
Augusta, Georgia is known as the Golf Capitol of the World and is rapidly becoming the Cyber Capitol of the South. The home of golf's most prestigious tournament and course is also proud to be home of the U.S. Army Cyber Command at Fort Gordon. Augusta is Georgia's second largest metropolitan area and borders the Savannah River which offers recreational activities and unique downtown experiences for visitors and its nearly 250,000 residents. Augustans manufacture almost 90 percent of the world's low speed vehicles and live in the backyard of America's nuclear renaissance. Augusta has robust, public K-12 education including schools that consistently achieve national recognition for excellence in delivering quality education.
ABOUT THE NEW COUNTRY CLUB DANCE HALL & SALOON
The Country Club Dance Hall & Saloon opened on Saint Patrick's Day 2006 and in a short time set the standard for entertainment in Augusta. In fact, The Country Club has brought more national Country Stars to Augusta than any other club in recent memory. With its friendly and professional staff, state-of-the-art sound and light system and lots of space to party, The Country Club rises above and beyond the expectations of "just another nightclub." The Country Club's dedicated fans voted it "Metro's Best Nightclub!" three years in a row and named it "Best Live Music Venue." Those very fans are the reason The Country Club has become the No. 1 place to party in the CSRA.
To help guests enjoy The Country Club lifestyle, free line dancing lessons are taught most Friday and Saturday's from 7-9 p.m. on the CSRA's biggest and best dance floor. The Country Club is open Friday and Saturday from 7 p.m. until 2 a.m. and has special events at other times of the week. For more information, visit their website: http://www.augustacountry.com/