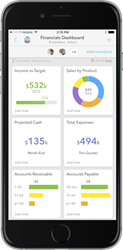 "StatX lets you have one app for all your business systems"
Santa Clara, CA (PRWEB) March 10, 2017
StatX, a leading business notification platform, today announced the launch of a universal mobile app that communicates relevant business updates to your mobile phone. The company has raised $2.5 million in a seed round to help fund product development and distribution.
"StatX helps businesses answer the question - what just changed in my business? By monitoring, understanding and being aware of change, businesses everywhere are more informed," said Prasad Raje, CEO and co-founder of StatX, "and when you are more informed you can take action that drives your business forward."
Today, businesses use legacy technologies like email, chat and dashboards to communicate change. With the launch of this app, StatX transforms the way businesses communicate by instantly delivering change notifications to a single app on mobile from virtually any information system.
The StatX app is visual and easy to consume, a user can get the information he or she needs at a glance. The "stat" visually represents metrics that matter to a user and whenever there's a change, the user is notified via push notifications. The stat can be created and updated interactively on mobile or linked to data in most software systems.
"My clients love the automated updates and instant notifications conveniently on mobile when any important financials change," said Javier Amezcua of Integro Consultants. "We linked StatX to QuickBooks Online in minutes. Now I can provide a higher level of service to my clients."
"When I was at Google, a few coworkers and I created Google Now to provide consumers relevant information at the right time," said Pablo Bellver, CTO and co-founder of StatX. "At StatX we believe that business updates should find you instead of the other way around."
StatX has raised $2.5M in venture funding from Signia Venture Partners, Inventus Capital Partners and XSeed Capital. Kanwal Rekhi from Inventus Capital Partners and Zaw Thet from Signia Venture Partners have joined the StatX Board.
"StatX is blazing a trail in the market as the first mobile-only enterprise SaaS app," said Zaw Thet, partner at Signia Venture Partners. "Any SaaS system can now add a native mobile experience with StatX and enhance the ability to respond instantly to any change."
"Business data is in so many systems; StatX bridges the gap between any data and the executive who needs to see it," said Kanwal Rekhi, Managing Director at Inventus. "StatX lets you have one app for all your business systems."
About StatX
StatX is a leading business notification platform that integrates changes from multiple systems into one simple app. StatX is led by an experienced team of Silicon Valley technologists and innovators. StatX iOS and Android apps are available for free download in the Apple App store and Google Play store. For more information, visit https://statx.io/