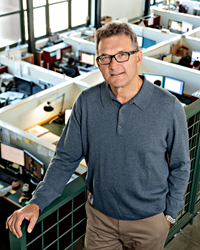 Berkeley, CA (PRWEB) August 21, 2017
With very heavy hearts, Tipping Structural Engineers (TSE) announces that founder Steven B. Tipping passed away suddenly on August 11, 2017. He would have been 70 this November. Tipping served as the president of the firm since its founding in 1983; in 2014 he named Mike Korolyk, Leo Panian, and Marc Steyer co-principals, charged with the day-to-day operations of TSE.
For more than 35 years, Tipping advanced the science and art of structural engineering, pioneering creative yet pragmatic design solutions for a broad range of projects. His inventions and accomplishments in seismic retrofit design have been especially crucial to the earthquake-prone Bay Area. At the same time, his emphasis on constructability culminated in an unparalleled expertise in cost- and resource-efficient solutions.
Instilling the spirit of innovation in his staff, he led Tipping Structural Engineers (TSE) to win 40 local, regional, and national awards for excellence in structural engineering. Tipping pioneered the use of vertical post-tensioning to deliver self-centering capability to concrete walls; TSE has applied progressive iterations of this lateral system to the design of bold projects such as the SF Public Utilities Commission headquarters, the Rene Cazenave Apartments, and UC Berkeley's Campbell Hall. In 2012 Tipping designed a novel retrofit system for 680 Folsom in San Francisco; he was inspired by the centuries'-old Japanese pagoda, in which a central spine (shinbashira) pivots in a stone well during an earthquake, controling the movement of the building. And this year SEAONC, SEAOC, and NCSEA, through their respective Excellence in Structural Engineering awards, recognized Tipping's idiosyncratic seismic isolation solution for the second eponymous Tipping Building, at 1908 Shattuck Avenue.
In early 2013, Tipping was included for the second time in Engineering News Record's Top 25 Newsmakers, for his post-tensioned concrete-core shear-wall innovation as it contributed to the great success of the SFPUC headquarters. In 2006 he was selected as a Top 25 Newsmakers for developing a simple, corrugated-metal shear-wall assembly that promises great potential in lowering construction costs and improving the seismic performance of multiunit housing projects. This research project also earned Tipping an Excellence in Structural Engineering Award in 2009 from SEAONC.
A graduate of Clemson University, Tipping began his engineering career as first lieutenant with the US Army Corps of Engineers at Fort Sill, OK, and soon thereafter completed a tour of duty in Vietnam. After working for several Bay Area engineering firms, he founded Steven Tipping and Associates in 1983, renaming the firm Tipping Structural Engineers in 2014. Tipping served as a board member and president (2002–2003) of SEAONC and was inducted as a fellow of the organization in 2004.
#####
About: Tipping Structural Engineers of Berkeley, CA, is a full-service structural engineering firm. Co-principals Mike Korolyk, Leo Panian, and Marc Steyer now lead the 33-person firm. TSE is an acknowledged leader in seismic and structural engineering, having garnered 40 awards in excellence in structural engineering from peers locally, regionally, and nationally. Experience has led the firm to a highly collaborative approach with owners, architects, and builders, such as SKS, TMG Partners, BRIDGE Housing, David Baker Architects, Gensler, Jensen Architects, Mark Cavagnero and Associates Architects, Pfau Long Architecture, SOM, KieranTimberlake, Cahill Construction, Charles Pankow Builders, Oliver Construction, Plant Construction Company, and Webcor.