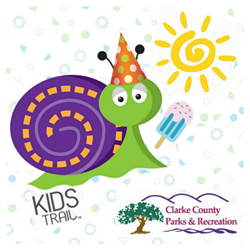 Learning thru Travel is fun for Mom, Dad, Nana and the Kids
Winchester, Virginia (PRWEB) March 24, 2017
Starting this Saturday in Winchester, VA, the first annual Summer Kids Fair will kick off at the Shenandoah Valley Discovery Museum. Parents and Grandparents will have the opportunity to look at the summer camps and programs available here in the Valley. The fair covers the Interstate 81 Corridor from Winchester to Harrisonburg.
For this summer, the Kids Trail is launching an on-line store of "Bucket – the Snail" items perfect for a Bucket Birthday Party at one of GoBRT's Partner's locations. Parents can pick a cooking class at Nibblins or a Butterfly theme at Back Home on the Farm, or how about a water party at Massanutten Resort's Water Park. There are t-shirts, buckets, pins, stickers and "Bucket: the Kids Trail mascot as a stuffed animal.
Also this summer, parents have a new travel guide called the Kids Trail Crayon Book. With nine pages guiding parents on itineraries, top music festivals, local resourcing guide, there are over twenty plus pages of Bucket's favorite venues to color.
The strawberry season always kicks off the Shenandoah Valley summer season. It is hard to say when the crop will be ready with this unusual winter season. Traditionally it can be from May 15th to the first of June. The strawberries is the opening of U-pick farms. GoBRT's top choice this year is MacKintosh Fruit Farm on Route 7 close to Berryville, Virginia. If local resourcing is important, then plan to bring the family to one of Mackintosh's monthly farm dinners. The kids can play on the playground while the parents enjoy a glass of wine or Virginia hard ciders. Come out early and the family can enjoy a breath-taking sunset at Bear's Den on the Appalachian Trail less than five miles away.
The Rotary of Harrisonburg will be celebrating the second annual Strawberry Festival on May 20th. A fun time for the entire family including grandparents, the festival is a fundraiser for the Downtown Park Initiative.
For a great way to spend a full day in Harrisonburg,, the Kids Trail will kick off a brand new travel itinerary called "Get Out and Play in the Burg." Starting with a morning at Back Home on the Farm with lunch at the Harmony Square Dairy Queen, then an afternoon at Explore More Discovery Museum with the day wrapping up at Mt Crawford Creamery where one can feed the calves, watch the cows get milked and then have ice cream or the famous chocolate milk. This program launches June 1st.
Here are four music events:

With the popularity of Disney's Beauty and the Beast, Shenandoah Summer Music Theatre in Winchester, Virginia will host a live musical production on July 6 – July 16th.
Shenandoah Valley Music Festival. opens on July 21st to September 2nd. A wonderful way to be in the mountains sharing an evening of food and music with the family, enjoy a full weekend with a package deal. One- and two- night package deals include discounted tickets to weekend concerts plus lodging and meals at Shrine Mont, a beautifully restored retreat center and national historic landmark that's also home to the concert venue.
Shepherdstown Street Fest has a large kids camp as part of the music festival on June 27th in Shepherdstown, West Virginia.
Gardens at Night at the Museum of the Shenandoah Valley in Winchester, Virginia allows the family to enjoy a beautiful night while experiencing great music together. Each month offers a different musical group.
Top Two Unique events

Family Super 8 Film Club - Youthful cinephiles and their parents are invited to join for unique family films from around the world., Each month will feature a different film.
Back Home on the Farm - Butterfly House June 18th – August 21st . Come visit a one of a kind Butterfly House! Native species are released into specially designed gardens and live there all summer before being released to make the way south for the winter. Enjoy these beautiful creatures, learn about the life cycles and plants the butterflies like to munch — all in a setting of enchanting miniature fairy gardens.
The Shenandoah Valley is a haven for families to explore hiking, history, the arts and local resourcing. The second annual Bucket Buddy's Adventure Game will be back this summer. Register today for the latest news and make summer plans to visit.
About Go Blue Ridge Travel– Virginia Kids Trail
Launched in 2011, Go Blue Ridge Travel (GoBRT) is a regional travel planning guide. In 2014, GoBRT created the Virginia Kids Trail with a mission to get kids off the couch and outside with their families. A recipient of four grants from Virginia Tourism, the Kids Trail is committed to helping kids learn thru travel thru a fun adventure game led by our mascot Bucket and her friends – three of whom are snails and one is a mushroom. GoBRT region is Interstate 81 from Winchester to Harrisonburg. Contact Nancy Craun, Owner and Founder at nancy(at)goblueridgetravel(dot)com and 540-533-1853.