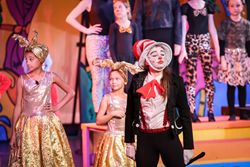 Summer is the best time for students to turn their creative energies toward the arts.
COSTA MESA, CA (PRWEB) June 27, 2017
Orange County-based nonprofit Arts & Learning Conservatory is pleased to announce that enrollment is now officially open for its summer schedule of youth theater and music camps, and classes, for children from kindergarten age through high school. The week-long camps feature professional theater, music, and arts training as well as fun activities, with a wide variety of creative themes for the kids, and a flexible choose-your-own schedule that's perfect for busy parents.
"Summer is the best time for students to turn their creative energies toward the arts," notes Debora Wondercheck, Arts & Learning Conservatory Founder and CEO. "Here at our camps, students really have a great time, singing, dancing, acting, playing instruments, and more. But at the same time, they're building important skills such as teamwork and public speaking, while forging friendships that will last a lifetime."
Arts & Learning Conservatory serves schools and families in Orange County, offering more than 30 different week-long camps, divided by age group and subject matter, and a two week orchestra camp. For example, younger children (grades K-3) can sign up for Jedi Adventures, Seuss on the Loose, and Moana (among many others); older kids (grades 4 through 12) can choose Tarzan, or Camp Broadway with highlights from Hamilton, to name but a few. Each class concludes with a final performance for family and friends.
And those are just the morning camps; Arts & Learning Conservatory also offers a full selection of conservatory-style afternoon classes with a specialized focus, such as voice lessons with a voice instructor, an acting workshop with an intensive director or even jazz band and pops orchestra. "Given the incredible number of different camps we offer, both in the morning and afternoon, we offer parents a fantastic way to create a fun and customized schedule for their children," adds Wondercheck.
Most of the camps are conducted at Arts & Learning Conservatory's newly acquired 8,200-square-foot facility in Costa Mesa, featuring three spacious performing-arts studios and ample parking, with easy access from the 405, 55 and 73 Freeways. (A few of the camps are conduced at the Claire Trevor School of the Arts at the University of California Irvine campus.)
To learn more and enroll in the camps, please call (714) 728-7100 or visit:
WEBSITE - http://www.artsandlearning.org.
TWITTER - https://twitter.com/artsandlearning
FACEBOOK - https://www.facebook.com/artsandlearning
About Arts & Learning Conservatory
Orange County, California-based Arts & Learning Conservatory is a 501(c) nonprofit organization offering musical theater and performing arts programs for children of all ages, regardless of race, income or experience. Arts & Learning Conservatory provides university-caliber concepts presented at age-appropriate levels, cultivating in its students a love of the arts while instilling valuable life skills that promote teamwork, articulation, public speaking and refined social fluency.