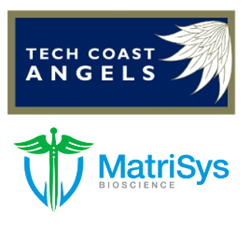 "We are excited to support development of novel live biologic therapeutics. We think the concept of using good bugs to fight bad bugs will positively impact a lot of patients." - Jeff Friedman, MD, PhD; Head of Tech Coast Angels' Life Sciences Committee
San Diego, Calif. (PRWEB) January 05, 2017
Tech Coast Angels (TCA) and MatriSys Bioscience (MatriSys Bio) today announced the completion of their $1.5 million convertible note financing round. MatriSys is developing and commercializing a novel class of live biologic therapeutics targeting major skin and dermatologic conditions that affect more than 230 million people worldwide. Recent pioneering advances in skin microbiome research, led by Professor Richard Gallo of UCSD, have resulted in a new understanding of the beneficial relationships that exist between skin microbes and health. By building on these discoveries, MatriSys is producing live biological therapeutics (LBTs) that rebalance the normal mix of bacterial species present on the skin by expanding the beneficial 'good' microbes and selectively removing the damaging or pathogenic species - "bad bugs."
MatriSys sees commercialization paths for its intellectual property in topical dermatology therapeutics, cosmetics, and skin care. The company's lead live biologic therapeutic is currently in Phase I/II clinical trials targeting atopic dermatitis (commonly referred to as AD or eczema) patients.
"In the past, there have been very few options for a patient suffering from AD," said Mark S. Wilson, CEO of MatriSys. "The choices were to take an antibacterial therapy that removed all the bacteria– both good and bad– from the skin, or to take something that suppresses the patient's immune system. Neither of these is particularly good as depletion of good bacteria can create an environment where pathogens can multiply, causing more imbalance and infection. What our technology does is selectively remove the bad bugs by application of 'good bugs' to re-balance the skin condition."
"Our investment in MatriSys is a terrific example of TCA's focus to support local, exceptional early-stage companies that are leveraging new technology to confront key health concerns," said Jeff Friedman, MD, PhD, deal lead and head of TCA's life sciences committee. "MatriSys' core technology is derived from cutting edge research from Dr. Richard Gallo's group at UCSD. To move from the lab to clinical testing so rapidly indicates this is a highly promising technology. TCA is excited to support development of novel live biologic therapeutics. We think the concept of using good bugs to fight bad bugs will positively impact a lot of patients."
Friedman will join the board of MatriSys and will help the company with business development, counsel, and assist with subsequent financing. This round of funding will be used to support and accelerate clinical trials for atopic dermatitis and continue preclinical work to support MatriSys' growing pipeline of live biologic therapeutics for additional clinical indications.
"We are excited to move forward with our clinical trials and the funding round will allow us to continue our work in this breakthrough technology," concluded Wilson.
About Tech Coast Angels:
Tech Coast Angels (TCA) is one of the largest and most active angel investor networks in the nation, and a leading source of funding for seed-stage and early-stage companies across all industries in Southern California. TCA members are accredited investors who collectively invest in startup companies in the range of $250k to $2M as a group. The companies TCA invest in go through well-structured, transparent, and time efficient screening and due diligence. TCA members are themselves founders and executive level business leaders who have extensive knowledge in the investment process and world-class business practices. TCA members thus provide companies with more than just capital; they also contribute counsel, mentoring and access to an extensive network of investors, customers, strategic partners and management.
TCA is a catalyst in the growth of the thriving Southern California entrepreneurial ecosystem of innovation, funding mostly emerging technologies and life science companies. The most recent Halo Report rated TCA as #2 nationally in a number of funded deals. A recent analysis by CB Insights ranked TCA #1 out of 370 angel groups on "Network Centrality" and #5 overall in "Investor Mosaic." Since its founding in 1997, TCA has invested over $176 million in more than 300 companies and has helped attract more than $1.5 billion in additional capital/follow-on rounds, mostly from venture capital firms. For more information, please visit http://www.techcoastangels.com.
About MatriSys Bioscience:
MatriSys Bioscience (MatriSys Bio) is a clinical stage Specialty Biopharmaceutical Company focused on developing and commercializing rational microbiome therapies for the top five dermatology and skin care conditions. Our foundational microbiome therapeutics platform is based on the pioneering work of Richard L. Gallo MD PhD, Professor and Chair, Department of Dermatology at the University of California, San Diego and the http://gallolab.ucsd.edu/. For more information, please visit http://www.matrisysbio.com/.