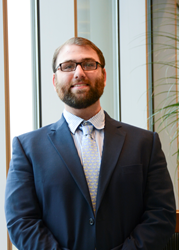 At Vector, I was able to separate myself from the pack by succeeding and advancing at a large company. I was able to show what I was worth.
Dallas, TX (PRWEB) January 31, 2017
Vector Marketing, the sales and marketing arm of Cutco Cutlery, has awarded 25 Team Builder Scholarships totaling more than $5,000 in its Southwest Region for Campaign II. Individual scholarships range from $100 to $1,000 for the leaders of the region's top-selling teams. Vector will award more than $10,000 in Team Builder Scholarships this year to leaders with the highest personal sales and sales of their recruits.
Each sales team is made up of a sales representative and anyone he or she recruits to sell Cutco Cutlery, the world's finest knives. Representatives recruited by peers are some of the company's best sales people, said Brian Winans, Southwest Region sales promotion manager.
The top Team Builder Scholarship winner for Campaign II is Nick Jordan, a 23-year-old law student at Marquette University Law School in Milwaukee, Wisconsin. Jordan has worked for Vector Marketing for six summers, with personal career sales topping $336,000. He has twice been awarded the company's prestigious All-American Scholarship, and in 2015 ran a Vector branch that placed fifth nationally for sales. To win the top Team Builder Scholarship, Jordan personally recruited 10 representatives. For Campaign II, his Dallas-based team sold more than $125,000.
Jordan said he tells potential recruits about how working for Vector built his resume and gave him skills for life. "I graduated from high school and I was just another kid in the middle of the class. I didn't have anything that distinguished me," said Jordan. "At Vector, I was able to separate myself from the pack by succeeding and advancing at a large company. I was able to show what I was worth."
Division manager John Carpenter worked with Jordan for five summers as Jordan attended Texas A&M University and then Marquette. "Nick is one of the most dedicated and hardworking people you will ever meet," said Carpenter. "He really used his resume as a positive example of what recruits can be if they follow the Vector program. Vector can make anyone better at whatever he or she wants to be."
The additional scholarship winners for Campaign II are William Lee, Josh Hamlet, Thomas Jordan, Battle Black, Kamani Randall, Dom Bilancia-Arcuri, Aaron Beckman, Nathan Day, Austin Courtney, Noah Dupree, Peter Cordill, Mckellar Greer, Liam McNa, Shayleigh Haas, James Poche, Smith Hendricks, Blake Mire, Dee Fleming, Hunter Ludwig, Nicholas Whitehead, Brady Lefebre, Jake Ellis, Lauren Cole and Richard McCauley.
About Vector Marketing: Vector Marketing is the sales arm for Cutco Cutlery, a 65-year-old company with headquarters and manufacturing facilities in Olean, New York. Vector sells Cutco through a national team of college students, who are trained to do in-home and virtual demonstrations on a pre-set basis. Vector Marketing has over 200 locations nationwide and works with students of all majors with little-to-no professional experience.