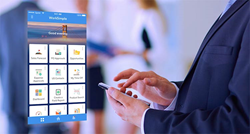 With Capriza's platform, customers can create mobile apps based on their JD Edwards business processes quickly and cost-effectively.
Cincinnati, Ohio (PRWEB) April 03, 2017
Terillium, an award-winning Oracle Platinum Partner specialized in Enterprise Resource Planning (ERP) consulting, announced today its partnership with Capriza, a leader in enterprise mobility for business applications. By collaborating with Capriza, Terillium can now offer a portfolio of user-friendly mobile apps to Oracle JD Edwards customers. Capriza's platform allows businesses to rapidly transform workflows from any existing applications into simple, intuitive experiences that are accessible anytime, anywhere.
"As our customers look to take advantage of mobility, we need to be able to offer them a simple solution to design their own mobile apps. With Capriza's platform, customers can create mobile apps based on their JD Edwards business processes quickly and cost-effectively. The Capriza platform is easy to use, and allows companies to manage all of their mobile functions from a single access point. The rapid deployment available through Capriza will be a game-changer for many of our customers, and we are excited to offer them this solution." said Dan Barford, Vice President, Terillium.
Capriza empowers organizations to mobile-enable critical business workflows for Oracle, SAP, PeopleSoft, Salesforce, and custom-built solutions in days without coding, additional infrastructure, or disruptive upgrades. Capriza inherits all business logic, security, and customizations of existing enterprise systems, driving immediate time to value. More than 100 enterprise customers spanning 30+ industries and 500,000+ users rely on the Capriza platform including City of Los Angeles, DirecTV, Flex, The Linde Group, Titan Machinery and Volvo Financial Services.
"We're pleased to partner with Terillium. Their team has an impressive track record of helping businesses successfully deploy enterprise systems. By providing the ability to quickly deploy new mobile apps that give employees access to critical business processes, Capriza and Terillium can help organizations running Oracle JD Edwards remove one of the biggest barriers in achieving value of enterprise mobility." said Aharon Weiner, Head of Business Development, Capriza.
Terillium and Capriza are hosting a webinar for Oracle JD Edwards users on May 16. Visit the webinar registration page to learn more.
About Terillium
Terillium is a Platinum level member of Oracle PartnerNetwork, specialized in Oracle's JD Edwards, Oracle NetSuite, and Oracle Enterprise Resource Planning (ERP) Cloud. As one of the largest, award-winning JD Edwards consulting companies, Terillium's commitment to the JDE community runs deep. With 170 full-time employees, Terillium has helped over 500 businesses with Oracle solutions. Terillium helps JDE customers with implementations, upgrades, software licensing, managed services, cloud applications, special projects, and more. More information can be found on Terillium's website.
About Capriza
Capriza mobile-enables your core applications to make it easy to do business inside and outside your organization. Capriza's enterprise mobility platform empowers IT and business units to mobile-enable critical business workflows in a matter of days without any coding, APIs or integration. Capriza disrupts the speed and economics of the enterprise mobility journey by extending the capabilities of existing applications from SAP, Oracle, Salesforce as well as custom-built solutions in a simple and useable way, onto any smartphone or tablet. Founded in 2011 by former executives of Mercury Interactive, Capriza is headquartered in Palo Alto, CA and is funded by Andreessen Horowitz, CRV, Tenaya Capital, Harmony Partners, Allen & Company, Entre Capital and Vintage Investment.
For more information, visit http://www.capriza.com.