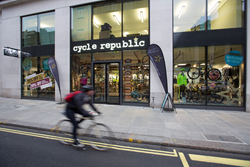 At CycleRepublic.com we chose to work with The Pixel because of their in-depth experience of Magento and their friendly, can-do attitude...
Bristol, UK (PRWEB UK) 31 January 2017
Leading ecommerce and Magento development agency, The Pixel, has announced the signing of its newest client, Cycle Republic.
Cycle Republic has been expanding its store network since 2014. The specialist cycling company stocks a wide range of high-end cycling equipment for everyone from urban commuters to off-road racers. Stores are staffed and run by cyclists just as passionate about cycling as their customers. The company brings the know-how, experience and passion to cut through the traffic, providing cyclists with everything needed to keep going on the road.
The Pixel's extensive experience in the development of the ecommerce platform Magento played a pivotal role in Cycle Republic's decision to use the company's services.
"At CycleRepublic.com we chose to work with The Pixel because of their in-depth experience of Magento and their friendly, can-do attitude when presenting new challenges and opportunities," said Jim Berkeley, Head of Commercial, Cycle Republic. "We are able to easily match our agile methodologies with The Pixel's team to get our most important deliverables when we need them. With The Pixel taking care of everyday maintenance we can focus on giving our CycleRepublic.com customers the best possible features and experience."
The Pixel has established itself as one of the leading Magento developers in the UK, having been one of the first development agencies to adopt the platform on its launch back in 2008. Now with an extensive client portfolio, the company's ability to provide dedicated development, hosting and support tailored specifically to Magento, coupled with a strong emphasis on ongoing client relationships has made it first choice for many.
"We are excited to be welcoming Cycle Republic on board and look forward to making the website the best it can be for their customers, using the Magento 2 platform," said Duncan Ball, Senior Project Manager, The Pixel. "Choosing to adopt Magento 2 has helped to future-proof the website by making full use of the latest services, modules and developments on offer. Both companies using the Agile Project methodology also means we'll be able to work seamlessly in achieving our joint goals."
About The Pixel
The Pixel is a Magento Enterprise Solutions Partner & Magento 2 Trained Solution Partner providing design, development, integration and support for ecommerce business needs. One of the UK's leading Magento development agencies, the company has been working with the platform since its launch in 2008, and has acquired a specialist team of 18, including Magento certified developers. The Pixel take pride in forging long-lasting partnerships with clients and are passionate about helping to fulfill their ambitions.