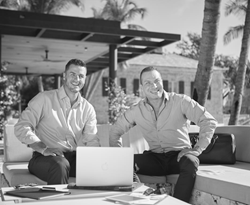 Miami, Florida (PRWEB) July 25, 2017
Haute Residence welcomes Farid Moussallem and Miltiadis Kastanis to its prestigious network of real estate agents.
Moussallem and Kastanis form The Miami Lifestyle Team – a premiere real estate team that specializes in luxury waterfront homes in Miami Beach and the Venetian Islands, Florida. Providing exceptional service in an increasingly competitive industry, the team regularly clinches high-profile deals in Miami-Dade that often break the County's record for price-per-square-foot sales. Their record sales have made the headlines at numerous publications, including Miami Herald, South Florida Business Journal, Palm Beach Daily News and Miami Curbed.
Steering The Miami Lifestyle Team to acclaim, Moussallem and Kastanis work alongside skilled teammates like Miami-Beach local Jake Schlosberg, who boasts his own high net-worth client base. Together, they create a fun, energetic and detailed Real Estate experience for a vast network of prominent clients looking to buy, sell or rent.
About Moussallem:
Born in Lebanon, Moussallem has been selling the "art of real estate" for 17 years with an impressive track record of high-end luxury sales. His keen grasp of the Miami real estate market, along with his personalized service and professionalism, help him educate and inspire his loyal clientele that includes many repeat customers. Moussallem represents many international buyers and sellers, including those looking for second homes and investments. He has a remarkable talent for matching extraordinary lives with extraordinary properties.
Many of Moussallem's transactions focus on unique properties. He has negotiated sales for trophy properties such as Villa Tranquilla ($20 million in 2011), the Landmark Odegaard Building in Midtown (2010), and Continuum combo units (2010), and most recently the record breaking sale of Casa Brisas for $40 million, one of the highest sales in South Florida.
About Kastanis:
Hailing from New York, Kastanis' real estate career is equally impressive. With a background in hospitality, he has worked with some of the biggest names in the entertainment industry. He is known for his unyielding professionalism and tenacity to negotiate exceptional deals for his clients that usher their real estate ventures to sure success.
As The Miami Lifestyle Team, Moussallem and Kastanis look forward to offering you a superior level of service for all of your Real Estate needs. The Miami Lifestyle Team is proud to broker some of the most beautiful properties in South Florida.
About Haute Residence:
Designed as a partnership-driven luxury real estate portal, Haute Residence connects its affluent readers with top real estate professionals, while offering the latest in real estate news, showcasing the world's most extraordinary residences on the market and sharing expert advice from its knowledgeable and experienced real estate partners.
The invitation-only luxury real estate network, which partners with just one agent in every market, unites a distinguished collective of leading real estate agents and brokers and highlights the most extravagant properties in leading markets around the globe for affluent buyers, sellers, and real estate enthusiasts.
HauteResidence.com has grown to be the number one news source for million-dollar listings, high-end residential developments, celebrity real estate, and more.
Access all of this information and more by visiting: http://www.hauteresidence.com