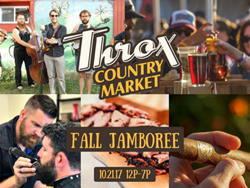 Everything that is country - Beer, Music, food, and More
Winchester, Virginia (PRWEB) October 05, 2017
The first annual Throx Country Market Fall Jamboree will take place on Saturday, October 21, 2017 at Throx Country Market in Winchester, Virginia. The event is a celebration of seasonal craft beer and Throx Market food, bluegrass music and local artisans. Admission is Free. Gates open at 12 noon to 7 pm.
Join Throx Market for a family fun-filled day. Indulge in oysters, smoked chicken and Throx Market's great BBQ Pork. There will be corn hole tournaments, face painting, kid's tattoos, and pony rides. Plus "a Stein Hoisting Competition - the first for Throx Market.
A preview of the private selection of the first release of this year's seasonal beers will be available to people booking on line for VIP tickets.
Moosejaw Bluegrass Band will be featured combining originals, eclectic cover, and driven bluegrass favorites to create a unique and energetic sound during the event.
Setting the event apart from other fall festivals will be a dapper-do' for men by Eagan & Company and a selection of cigars from John B. Hayes. Growing a beard for the fall football and hunt season, have it trimmed and styled by barber, and beardsmith - Travis Eagan.
Tickets for beer and food may be purchased online or at the gate. Throx Rocks Package includes 12 vouchers, VIP access for two people at 11:30, swag bag, and VIP reserved table seating. This VIP package allows one in early for the private seasonal craft beers premier.
Throx Country Market is one of three Throx Market stores owned by Pam Throckmorton. Formerly known as Throx Country Store, the store was originally opened in the 1960's and then purchased by Pam Throckmorton in 2009. "Throx Country Market combines the modern but still "country". Known for its family recipe BBQ, fish and chips, Cole slaw, and potato salad, we are now featuring today's Panini's and a fish po-boy sandwich. Many of the recipes come from my mother, Eva Payne," said Throckmorton. Food can be purchased individually or buy bulk for one's dinner or parties.
The store has the best selection of craft beer with growler fills available. Also, check out Throx Market's selection of wines. There are unique gifts, local and gourmet food items available.
"I would like to invite everyone out to the first annual Fall Jamboree. Join us for a relaxing day of good music, food, and fun for the family. This event shows our love of the community. Each of our stores center on meeting the needs of the community the location serves which is why each store is different. We are not a chain or a franchise." said Pam Throckmorton, owner of Throx Market.
Expanding from a convenience store image to the Shenandoah Valley's best resource for craft beer, craft sodas, and great food for Throx family recipes, each of Throx's three stores has it's own identity. The other two locations are:
Throx Market Station on Route 50 at I-81 exit 315 is a restaurant-gas store offering a community gathering mezzanine area to enjoy good conversation and food. Home to the Virginia Kids Trail and Go Blue Ridge Travel's visitor center, Throx is known for healthy food selections as a convenience store, stop by on the way home and pick up dinner for the family or for a quick healthy pick up for lunch. The upstairs Virginia Beverage Bar offers tastings - check out Facebook @ThroxMarketStation for updates. One can also rent the unique open space for private events picking Throx catering platters for the event.
Throx Brew Market and Grille on Route 11 north at exit 317 is gas station – pub – deli. "Offering "Sip n' Shop" you can enjoy a craft beer as you explore the craft beer selections to take home. Mix up a six pack with ones you like or would like to sample to expand your "best" choices this year, " said Jeremy Throckmorton. Every Friday enjoy live music from bluegrass to blues rock to acoustic Americana and more. Great place to take the family for dinner in a fun relaxing environment where kids and Mom and Dad can get up and dance to the music.
Between all three stores, Throx Market is the largest resource for craft beer on the Interstate 81 Corridor.
Throx Market is a member of the Taste of Blue Ridge culinary series. They will be at Magnolia's at the Mill Seafood and Ciders event on November 3rd featuring this seasons best ciders pairing with a 5-course meal.