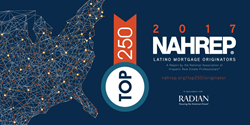 San Diego, CA (PRWEB) June 22, 2017
The National Association of Hispanic Real Estate Professionals® (NAHREP®), in association with Radian Guarantee, released its third annual Top 250 Latino Mortgage Originators Report recognizing the top producing Latino mortgage professionals across the United States. The report ranks individual originators based on both number and dollar volume of transactions. For the third consecutive year, Wells Fargo led the way as the company with the most honorees, followed by New American Funding and Quicken Loans.
While Hispanics are projected to represent more than 50 percent of U.S. homeownership gains over the next 15 years, only four percent of mortgage industry professionals identify as Hispanic, according to the 2016 State of Hispanic Homeownership Report®, a publication of NAHREP and the Hispanic Wealth Project™ (HWP™). With 88 percent of honorees identifying as bilingual, the Top 250 report recognizes individuals whose cultural skill sets provide an invaluable resource to the largest and fastest growing segment of new homebuyers nationwide. Their accomplishments underscore the need for substantially more culturally competent professionals within the mortgage banking industry.
"A highly skilled loan originator can make a complex and intimidating process much easier for everyone involved," said Leo Pareja, NAHREP President. "NAHREP applauds the accomplishments of the Top 250 Latino Mortgage Originators for making home buying an attainable goal for a sometimes underserved market."
The Top 250 Latino Mortgage Originators Report was compiled through a self-nomination process reflecting total transactions closed during the 2016 calendar year, then validated by NAHREP through the nominees' respective companies. The report represents over $8.19 billion in combined sales volume in 2016, an increase of $90 million from the previous year.
The 2017 Top 10 Latino Mortgage Originators in the U.S. are:
1. Alex Varela, PrimeLending, TX
2. Tom Ramirez, New American Funding, CA
3. Manuel Corral, Golden Empire Mortgage, Inc., CA
4. Carlos Larrazabal, Washington First Mortgage, VA
5. Jorge Montoya, Guild Mortgage, NV
6. Rodrigo Ballon, CrossCountry Mortgage, CA
7. Maria Salas, Texas Bank Mortgage Company, TX
8. Edgar Ibarra, loanDepot, CA
9. Saul Pinela, Neighborhood Loans, Inc., IL
10. David Medrano, University Federal Credit Union, TX
Among non-depositories, New American Funding topped the list with 30 originators on the list, followed by Quicken Loans with 22. The overall Top 250 report included representation from over 50 companies across 25 states. While mortgage professionals are generally considered to be an aging demographic, only 10 percent of the Top 250 Mortgage Originators are over the age of 50.
The report features honorees who will be recognized at the 2017 NAHREP National Convention and Latin Music Festival. The convention will be preceded by the Elevate Mortgage Summit, a program designed to provide unique sales training for mortgage professionals and features content developed for top producers. Some of the individuals on the Top Originators list will be featured at the summit.
About NAHREP
The National Association of Hispanic Real Estate Professionals, a nonprofit 501(c) 6 trade association, is dedicated to advancing sustainable homeownership among Latinos by educating and empowering the real estate professionals who serve them. NAHREP is the premier trade organization for Hispanics and has more than 26,000 members in 48 states and 50 affiliate chapters. For more information, please visit http://www.NAHREP.org.
Press Contacts: Jordan Grant, NAHREP, jgrant(at)nahrep(dot)org, (619) 719-4814